Like any other marking and signaling system in logistics businesses, warehouse floor line painting helps to operate safely, organized, and efficiently. Thus, it is necessary to know how to apply it, the regulations around it, and the benefits it brings. 
In addition to floor marking tape, warehouse floor line painting is one of the most popular options, as it helps to delimit different work areas, provides clear direction for vehicles and pedestrians, reinforces safety signs, and marks restricted or prohibited areas. 
Warehouse floor line painting has many advantages, such as ensuring an attractive, long-lasting, and highly visible result. It also provides a good finish and resists daily wear and tear within the facility, such as the circulation of personnel and forklifts.
While warehouse floor line painting is a good marking option, those who opt for it should know that it is more expensive, takes longer to apply, and is difficult to erase or modify after application. 
Furthermore, like all other elements within logistics businesses, warehouse floor line painting must meet several characteristics according to local safety regulations, the type of warehouse, and the needs of each company. 
In the United States, warehouse floor line painting must adhere to OSHA's guidelines on floor markings; in Mexico, the government agency overseeing these systems is the STPS; in Brazil, the ABNT is in charge of dictating safety marking standards.
At Serviap Logistics, we are experts in warehouse floor line painting. Contact us to find out how we can help you.
Standards for warehouse floor line painting
Regardless of your location and regional safety regulations, warehouse floor line painting requires the placement of defined and homogeneous markings. To do this, remember to follow a system of colors and sizes and make any adjustments when the terrain has special conditions 
Color: thanks to its high visibility, the most commonly used color for warehouse floor line painting is yellow, which also indicates traffic lanes and aisles. However, other colors can be used; red, black, and orange are the most popular. Red generally communicates danger, black helps to warn of work in progress, while orange is used in inspection areas or to signal electrical hazards. 
Line width: warehouse floor line paint should have a linewidth of at least two inches, as OSHA recommends. For greater visibility, lines can be up to six inches wide. Although warehouse floor line painting is usually as stripes, other forms can also be chosen to reinforce safety, improve the flow of goods and keep a logistics business organized. 
Materials: the most common paint is epoxy, but acrylic paint can also be used. The choice will depend on the budget and the surface to be painted. 
Also, warehouse floor line painting can be applied according to 5S floor marking, which aims to permanently achieve organized, tidy, and clean workspaces. This technique is based on five Japanese principles: seiri (order), seiton (stabilize), seiso (shine), seiketsu (standardize) and shitsuke (sustain).
How to prepare a surface for warehouse floor line painting
The quality of the materials and constant maintenance will help the warehouse floor line painting to last as long as expected. However, preparing the surface where it will be placed is indispensable to extend its appearance and functionality further. 
Thus, the first thing to do is to sweep away the dust and clean the dirt. Then, any traces of previously applied paint must be removed, either with special scrapers or using chemical techniques that eliminate any marks. 
Shot blasting, for example, helps to create an optimal surface for floor marking with paint. However, this preparation method takes longer, is more expensive, and requires hiring experts or renting special equipment. 
Solvents also help clean a surface for warehouse floor line painting. While water is the most common, acetones and other chemicals remove all traces of paint. 
The method chosen will depend on the budget and time available to clean and prepare the floor. It is best to hire an expert because of the importance of having a perfect surface for the application of warehouse floor line painting. 
The professionals who offer warehouse and industrial cleaning services guarantee the correct use of machinery, will know which method to recommend according to your needs, and will help you save time. 
Warehouse floor line painting: benefits for logistics operations
Keep in mind that, unlike other floor marking methods, the paint must be left to dry for at least 24 hours to ensure its durability and appearance.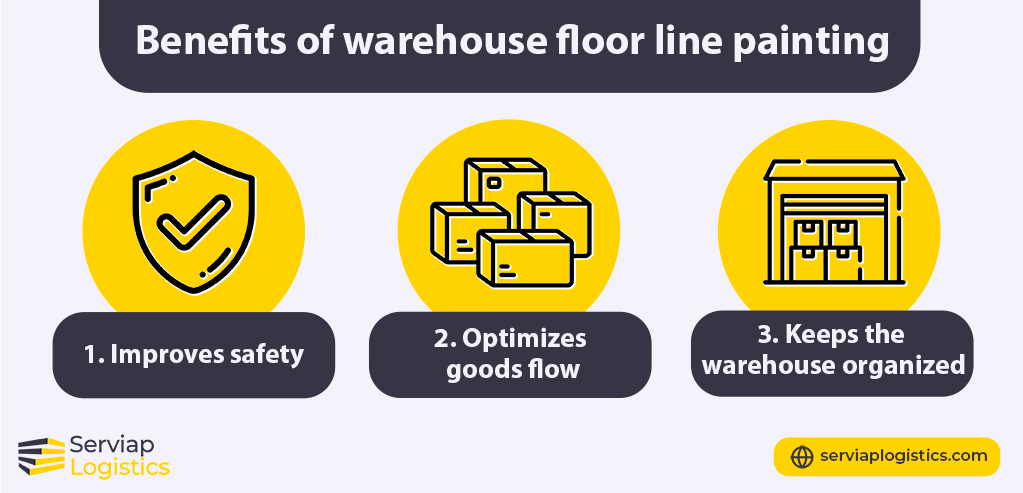 Warehouse floor line painting is not only a visual reference but a whole system that helps optimize operations in these businesses, providing key benefits in terms of safety, flow of goods, and overall organization.
1. Improves safety
In warehouses and distribution centers, safety is a priority, and one of the strategies to minimize any human error that could put employees and goods at risk is warehouse floor line painting. 
Warehouse floor line painting is used to delineate work spaces, warn employees of hazardous areas, indicate storage of dangerous materials, and even mark where emergency equipment (fire extinguishers or personal protective equipment) is located. 
A well-placed, quality, and compliant warehouse floor line painting is vital for workers and anyone visiting the facility to watch for hazards, so it pays to have it done by a team of experts.
2. Optimizes goods flow
In warehouses and distribution centers, significant quantities of products and materials come in and go out daily, with different origins and destinations, so it is best to have an optimal flow of goods to prevent delays and errors. 
Warehouse floor line painting helps optimize the flow of goods by indicating to operators where they can pick or place a lot, the direction in which they should move in and out of the facility, and even where they can park their vehicles. 
Thus, by having a standardized and customized floor marking system, confusion is avoided, and it is easier for employees to spend less time figuring out where they need to go to pick or take a product.
3. Organizes the warehouse
An organized logistics business has many advantages over its competitors, as it can offer more and better services in less time. Warehouse floor line painting plays a vital role in maintaining this order. 
Warehouse floor line painting designates areas where specific tasks are performed, such as material storage, order picking, quality control points, etc. 
Therefore, when performing warehouse floor line painting, the warehouse layout design must be followed. This way, floor markings will help improve delivery fulfillment, provide faster access to goods, reduce picking times, and prevent accidents.
Warehouse floor line painting alternatives
Suppose warehouse floor line painting does not meet your needs for floor marking in your logistics business. In that case, tape is the most popular alternative. 
Adhesive tape is cheap, easy to apply, and made of strong materials such as vinyl. It's also flexible, as removing and reapplying is relatively easy. And unlike warehouse floor painting, you don't have to wait for it to dry. 
However, this alternative guarantees less durability than paint, mainly in busy areas. It is also not as resistant to chemical cleaning and can fray, fade and discolor over time.
On the other hand, on surfaces where paint or tape is impossible or complicated, OSHA recommends using other floor marking devices such as flags, cones, and other resources that serve as visual guides for operators.
Serviap Logistics provides warehouse floor line painting services
At Serviap Logistics, we provide and install elements for logistics businesses in Brazil, Mexico, and the United States, such as warehouse floor line painting and tape marking. 
We also have racking and collision protection installation, labels, signage, and equipment assembly as part of our offer. Besides, we can manage projects and supervise a warehouse's installation, remodeling, or relocation from start to finish.
Some of the world's largest companies are among our satisfied customers and partners, spanning a wide range of industries, including automotive, e-commerce, and wholesale, among others.
Wherever we operate, we follow the highest safety standards. In addition, we are committed to service excellence and pride ourselves on providing personalized service to every customer.
Contact us for more information on how we can help you with warehouse floor line painting.
Contact us
Contact us