For companies in Brazil that need to quickly boost headcount at a warehouse or distribution center– be that because of the growth of the business or to meet seasonal demands — business process outsourcing (BPO) can be a great option.
A provider of BPO in Brazil can assume a wide range of functions, with recruitment and hiring being a popular option. Under such an arrangement, the BPO provider takes on responsibility for selecting, interviewing and onboarding employees.
SEE ALSO: Warehouse signs in Brazil: find a reliable supplier and installer
With an established recruitment network in place, the provider is able to identify outstanding candidates to fill specialist roles, or quickly source large numbers of workers for high volume or seasonal activities, such as line picking.
As such, working with a BPO in Brazil can help logistics companies meet heavy seasonal recruitment needs, in turn allowing in-house management to focus on other aspects of the business during growth periods.
Contact us for more information on recruiting warehouse personnel in Brazil.
BPO in Brazil: an ideal choice to meet seasonal worker needs
Business process outsourcing involves contracting out specific business functions or processes to a third-party service provider. These providers are staffed with specialists in their respective fields and allow businesses to tap into their expertise and resources.
BPO is a versatile strategy that can be applied to various aspects of a business, allowing companies to focus on other operational concerns, while the provider supports the likes of recruitment.
For companies in the logistics industry, using a BPO in Brazil for recruitment can be especially attractive during seasonal rushes, such as over the holiday season at the end of the year. During such periods, many warehouses and distribution centers see a major spike in activity and need to scale up their headcount very quickly.
When choosing a partner to provide BPO in Brazil to meet recruitment needs, it is worth considering if an employer of record (EOR) would be the ideal choice, because as well as helping to identify and onboard talent, an EOR can actually hire them on behalf of another company, handling their payroll and other administative matters in the process.
Warehouse roles a provider of BPO in Brazil can hire for you
A provider of BPO in Brazil can help find ideal candidates for a wide range of warehouse-based roles, such as general assistants to ensure smooth operations during complex and demanding seasons. Another often requested role is an operation supervisor, who manages the day-to-day activities of the warehouse.
To help with overall operational processes, a provider of BPO in Brazil can also find professionals such as forklift operators, safety technicians, and other roles related to loading and unloading goods. They will implement safe procedures while handling equipment and distribution as quickly as needed.
Furthermore, warehouses experiencing higher requests may also need extra hands on further organizational tasks such as administrative assistants to support the warehouse management team and organize paperwork, as well as other professionals involved in non-inventory.
5 key advantages of BPO services
While it's possible to hire professionals directly, there are plenty of benefits of working with a provider of BPO in Brazil for recruiting roles for warehouses and distribution centers.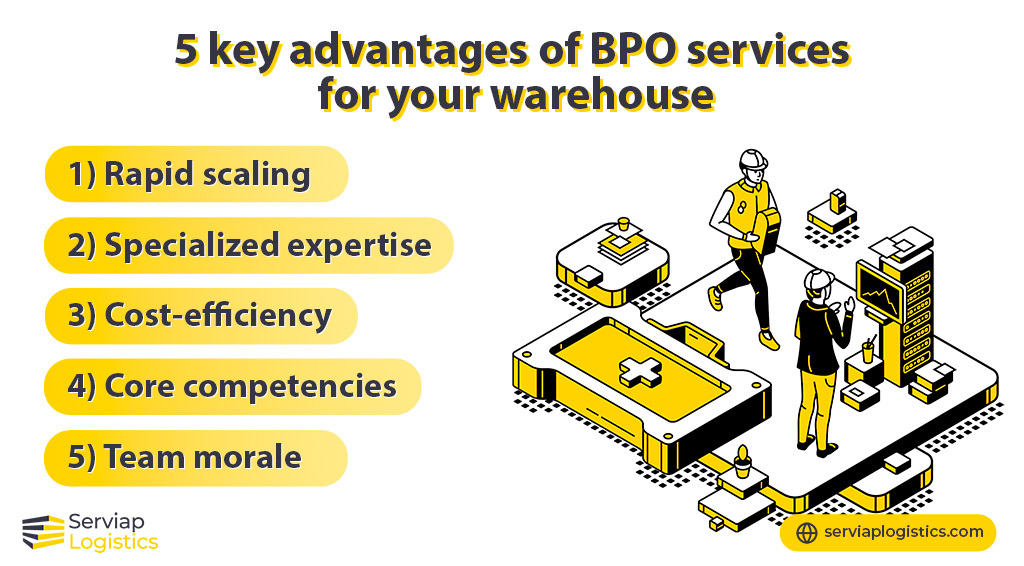 1) Rapid scaling
One big benefit of BPO is the ability to quickly scale your workforce up or down. During the holiday season, demands can be unpredictable, and having a flexible crew can make all the difference in meeting customer expectations.
You can hire personnel with different agreements according to your needs, and a BPO provider helps you stay compliant with local regulations. Brazilian paperwork can be hard to navigate for the inexperienced, so this is a great boon.
2) Specialized expertise
BPO providers in Brazil often specialize in warehouse and logistics services. This means that the talent you hire through them will already be well-versed in the intricacies of warehouse operations. They require minimal training, enabling them to hit the ground running.
3) Cost-efficiency
Outsourcing processes can significantly reduce your operational costs. You no longer need to worry about the overheads associated with hiring and maintaining an in-house workforce. This can free up capital that can be reinvested in other critical areas of your business.
4) Focus on core competencies
By delegating the hiring process to a BPO provider, you can redirect your internal resources toward core business functions. This allows you to concentrate on strategic planning and enhancing customer experiences, rather than getting bogged down in recruitment processes.
5) Boost team morale
Periods with higher demands can be stressful for workers in the logistics sector. Thus, scaling up your team temporarily can alleviate this tension and avoid overloading your staff. This can protect you from long-term damage by elevating employee retention rates.
How to choose the right BPO provider?
When it comes to selecting the right provider of BPO in Brazil to help fill roles in the logistics industry, it's essential to partner with a company that has a strong track record. That means looking for a company with a history of working in warehouse and logistics outsourcing, because they will better understand the specific demands of your industry and be equipped to meet them.
Ensure the provider has the capacity to scale their services according to your seasonal demands. This flexibility is crucial in the dynamic world of retail and logistics. Check if their BPO solutions employ the latest technology and software to optimize warehouse operations, which can lead to increased efficiency and accuracy in your processes.
Make sure they adhere to all relevant labor laws and security standards, such as the regulations from Ministério do Trabalho. To do so, seek out reviews and testimonials from other businesses that have utilized their services. This can supply valuable insights into their performance and reliability.
Using an EOR for recruitment services
For anyone interested in seeking out a provider of BPO in Brazil for recruiting warehouse staff, working with an EOR is a good option. Like other types of recruiting as a service, EOR services include sourcing, vetting, and onboarding candidates for particular roles, as well as managing their payroll and other administrative concerns.
An EOR services provider also hires those people on behalf of the company that needs them, meaning that in the eyes of local authorities, the EOR is the official employer. In practice that means the EOR assumes a significant portion of the liability associated with being an employer, meaning that the hiring company enjoys the peace of mind of knowing that no unexpected non-compliance issues will arise.
The EOR will also handle the onboarding and eventual offboarding of all employees, as well as offering ongoing guidance and advice regarding changes to legislation and other concerns. In the even the hiring company wishes to hire in more than one country or jurisdiction, an EOR with an international presence will also be able to support that.
Serviap Logistics can help you hire warehouse workers
At Serviap Logistics, we offer BPO in Brazil, as well as in Mexico and the United States, to anyone in need of assistance with sourcing and hiring workers for warehouses and logistics centers.
Our recruitment solutions are part of a broader porfolio of services supporting the logistics industry, which also includes supplying and installing racking, floor marking, signage, and collision protection. Additionally, we supply warehouse labels and offer industrial warehouse cleaning services.
Our ability to hit tight deadlines while maintaining the highest levels of quality and safety has seen us become the trusted partner of some of the biggest companies in the world, covering a wide range of industries, including agriculture, automotive, e-commerce, and wholesale.
Contact us to find out more about how we can assist you.
Contact us