A warehouse is a space with many functions, all of which which require a smooth flow of goods and efficient processes. Organization is fundamental to optimizing the floor, avoiding low productivity, and improving project management. This means industrial warehouse cleaning is key to maintaining smooth operations.
Warehouse cleaning should be performed regularly, to ensure the area is free of dirt, dust, junk, and leftover materials. This makes it much easier to arrange the warehouse floor, as well as to diminish risks of potential accidents, misinformation, and loss of products. So, proper cleanliness offers a more efficient workplace that conforms to warehouse safety standards.
Industrial warehouse cleaning involves a systematic approach to maintaining cleanliness and orderliness. It goes beyond regular cleaning tasks and often requires specialized techniques, equipment, and cleaning agents to effectively handle the unique challenges in warehouse environments.
At Serviap Logistics, we offer industrial warehouse cleaning services in Brazil, Mexico, and the United States. Contact us to find out more.
Industrial warehouse cleaning services in Brazil, Mexico and United States
Periodic cleaning is key to maintaining efficiency, productivity and safety in warehouses and distribution centers. Cleaning is also good for maintaining worker morale, as well as guaranteeing that the space looks presentable when clients or partners visit.
Serviap Logistics provides industrial warehouse cleaning services in all three countries where it operates.
Brazil
Companies with a warehouse in Brazil often rely on professional providers that offer a wide range of services, including comprehensive cleaning. Due to the country's diverse industries, Brazilian cleaning companies are experienced in handling different types of warehouses and adapting to industry-specific requirements from the Secretariat of Labor Inspection.
Mexico
Mexico is also a competitive territory, rich in resources that make it an attractive destination for foreign investment in a Mexican warehouse. Consequently, it has established various types and sizes of warehouses. Cleaning services in Mexico are characterized by a focus on efficiency and compliance with health and safety regulations by the Secretariat of Labor and Social Welfare.
United States
Being a global leader in industrial and commercial activities, the United States boasts a plural market for warehouse cleaning services. Cleaning companies in the U.S. also have to comply with certifications such as the ISSA CIMS (Cleaning Industry Management Standard), demonstrating adherence to industry best practices.
Industrial warehouse cleaning: 3 critical elements
The cleaning process of a facility will vary based on the type of stored goods and the size of operations. Also, some warehouses handle hazardous items and require more rigorous and specific sanitation. In any case, there are 3 main elements to be considered when aiming for efficient industrial warehouse cleaning.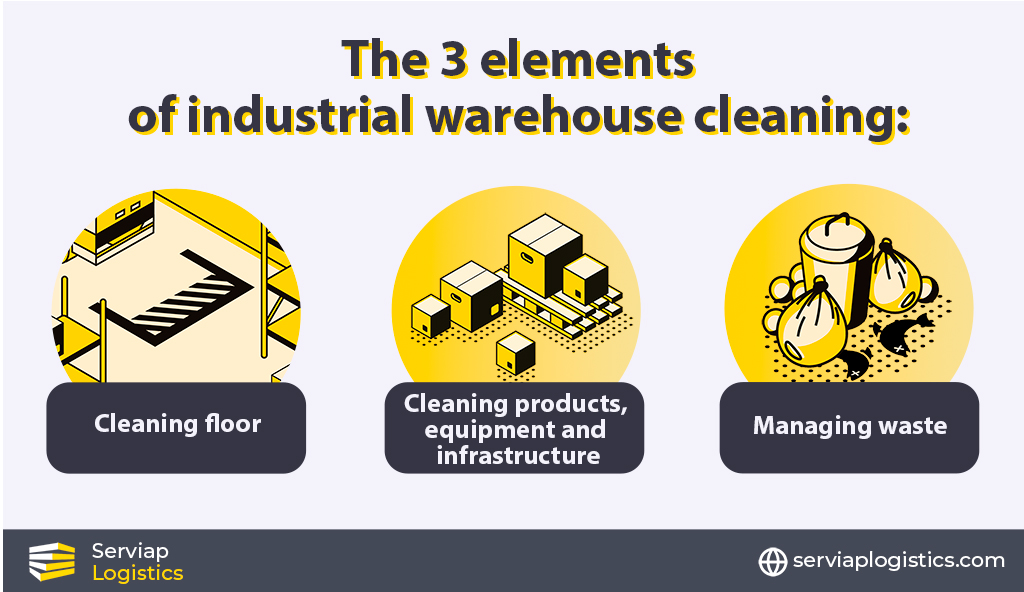 1) Floor cleaning
The floor of a warehouse is the area that accumulates the most dirt. It's the place where you'll find footprints and tire marks from transporting vehicles as well as spills of liquids and falling objects. Clean and tidy floors make a warehouse safer, more presentable and efficient because they optimize transit zones, common areas, and workspaces.
2) Cleaning of infrastructure and equipment
All components of a deposit or a distribution center should be remembered when getting industrial warehouse cleaning done. This means you mustn't neglect storage racks, roofs, columns, walls, lights, machinery, and even ceilings, as all of these can collect dust, cobwebs, or machine marks over time.
3) Waste and packaging management
Industrial warehouse cleaning also involves ongoing maintenance to make the space more sustainable, cost-effective, and compliant with waste and recycling policies. This includes the control of waste generated, separating it for proper recycling or discard, and diminishing the volume produced.
Why choose professional industrial warehouse cleaning?
Industrial warehouse cleaning can be done with the assistance of professionals who are ready to provide specific services, according to the necessities of each area. These can involve power washing, floor sanitation, brushing, rafter cleaning, disinfecting, post-construction cleaning, and more.
One of the main reasons to invest in professional industrial warehouse cleaning is the correct usage of machinery to execute such services. For example, a vacuum sweeper can be more effective than a single-purpose one in a space containing higher volumes of floor dust. This type of decision can be identified by experts who know the best cleaning processes for each situation.
Warehouse cleaning might also require a variety of tools and products to be used, especially when deeper cleaning is needed. Experienced professionals have the expertise to clean warehouses of all kinds and handle various materials. Moreover, they already have access to the best equipment and top-quality cleaning products. They will know what to use, and where to use it, getting the job done in less time.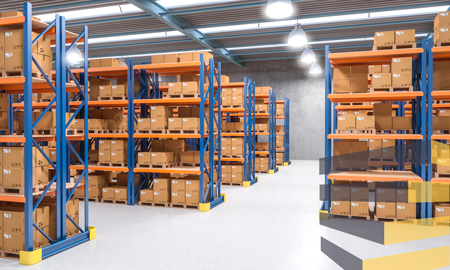 Also, professionals are trained for the correct disposal of hazardous waste, used oil, and other potentially dangerous debris. This can avoid accidents and create a safer warehouse, ensuring that all workers operate in a safe and healthy environment. Cleaning experts help uphold the highest safety and cleaning standards according to local regulations, such as the OSHA institution in the US.
Additionally, getting professional industrial warehouse cleaning done ensures higher rates of sustainability. Experts will know how to properly deal with warehouse general waste, as well as chemical fluids used in deep cleaning, avoiding contamination. They can also optimize distinctive processes between wet and dry cleaning methods for each section of a warehouse, which can result in a more effective and sustainable cleaning project.
How to outsource industrial warehouse cleaning
Some managers prefer to keep cleaning in-house, hoping to save costs. However, they will have to spend a good amount of time and money on creating a cleaning plan, training personnel, and renting or buying equipment and cleaning products. Another serious problem is misusing tools and machinery, which can damage property and goods, or even result in serious injuries to employees.
So, hiring external experts in industrial warehouse cleaning is a great option if you're looking for long-term benefits because you can trust their expertise to enhance the whole cleaning process and protect your warehouse. They ensure proper cleaning and maintenance, while still conserving the lifespan of essential assets, such as adhesive tapes for floor marking, for instance.
If you decide to outsource cleaning services, one alternative is to independently conduct market research, identify companies in your area, inquire about their services, and compare received offers. Another option is to collaborate with a third-party company that offers logistics solutions for warehouses. They can use their network and experience to quickly select the best professionals, considering cost-benefit.
Either way, it's also important to make sure the industrial cleaners have specific experience in warehouses. Industrial cleaning can be done in many types of companies, so you should prefer experts who have extensive know-how in the warehouse business. They will make sure that the industrial warehouse cleaning services don't conflict with your warehouse's operation.
Serviap Logistics offers warehouse cleaning assistance
At Serviap Logistics, we offer industrial warehouse cleaning services in Brazil, Mexico, and the United States. In all three markets we offer a variety of other services to support warehouse setup, refits, or relocations.
Those include supplying and installing signage, racking, floor marking and collision protectors. We also supply labels, which we can work withy you to design based on your needs.
Our ability to hit tight deadlines without sacrificing quality or safety has seen us become the trusted partner of some of the biggest companies in the world, covering a wide range of sectors, including wholesale, automotive, and e-commerce, among others.
Contact us to find out more about how we can support you.
Contact us