The organization of a warehouse plays a key role in the success of any company that deals with the storage and transportation of goods. With safety coming first, investing in appropriate security barriers for warehouses in Brazil is a top priority.
There are various measures that can prevent loss and protect products. To assist planning, you can rely on such as column guards, physical security barriers, gates, and walls. These are devices designed to control the flow of people and vehicles, restricting access to specific areas and protecting stored products.
Every investment in warehouse safety barriers improves operations and results. For starters, they minimize losses and cargo theft, which is a problem reported in several regions of Brazil, both in the road transport of products, and in the arrival and departure of items in warehouses.
The security barriers also protect workers, complementing the Personal Protection Equipment – PPE protocols. Moreover, they are an essential component to protect the infrastructure of a warehouse and extend its operational lifespan. 
At Serviap Logistics, we help our partners optimize their operations with assistance in installation of security barriers, supervision and safety. Contact us to learn more about how we can help you.
Security barriers: types and applications
Depending on the needs of your warehouse, there are various crash protectors and security barriers that can be installed and integrated with each other. They vary in value, use, versatility, and durability.
Fixed security barriers
Fixed security barriers are very common in the logistics warehouse space. They are usually anchored to the floor by bolted strips. They can also be installed within floor excavation systems for even greater impact resistance.
They are widely used to protect the shelf columns in various storage areas, forming a powerful safety barrier against friction or impact from cargo vehicles such as forklifts or cranes.
Removable security barriers
The removable barrier, as the name suggests, can be removed and adapted to different functions, having a versatile utility in the space of a warehouse. Some of these security barriers can be manually removed to be repositioned at another place.
They also have the great advantage of helping to create temporary attention zones, warning staff of sensitive or dangerous areas, and complementing floor marking techniques.
Column protectors
They serve as a security barrier around columns and walls in a warehouse. They are mainly important for reducing the impact of heavy machinery and thus saving time and money in maintenance. They are fixed and permanent in nature.
Column protectors can be made of different materials, from harder to more flexible ones. A stiffer material can protect a column from more intense impacts, but may damage the machine involved in the impact, while a more flexible material can better adapt to accidents and prevent machinery damage.
Safety gates
Security gates restrict access to certain areas of a warehouse, controlling entry and exit in a coordinated manner. They are also useful for stopping the flow of vehicles and people in areas that are not being used at any given time.
In addition, a security gate can order the flow in a more distributed way, avoiding mistakes and accidents in places with heavy traffic of products and personnel. They can open from the bottom up, or from the inside out, according to the availability of space.
Guard rails
Guard rails are used to separate areas in a warehouse. They are usually metallic and create an additional security and organizational barrier around columns of shelves, aisles, and so on. They are usually designed to stop the movement of workers and especially to avoid falls.
The resistance of guard rail material can vary from heavy duty to medium strength and flexible ones. Although primarily for people, malleable security barriers can be particularly useful for cushioning the impact of vehicles.
Retractable security barriers
You can use retractable partitions if you need a versatile and temporary security barrier somewhere in your warehouse operation. They are usually made of strong materials that can be divided and adapted to different uses.
Retractable security barriers are usually brightly colored so that they draw a lot of attention. They can also be used in conjunction with other signs, as their main function is to create a visual and practical warning, as they are not necessarily effective in cases of real impact.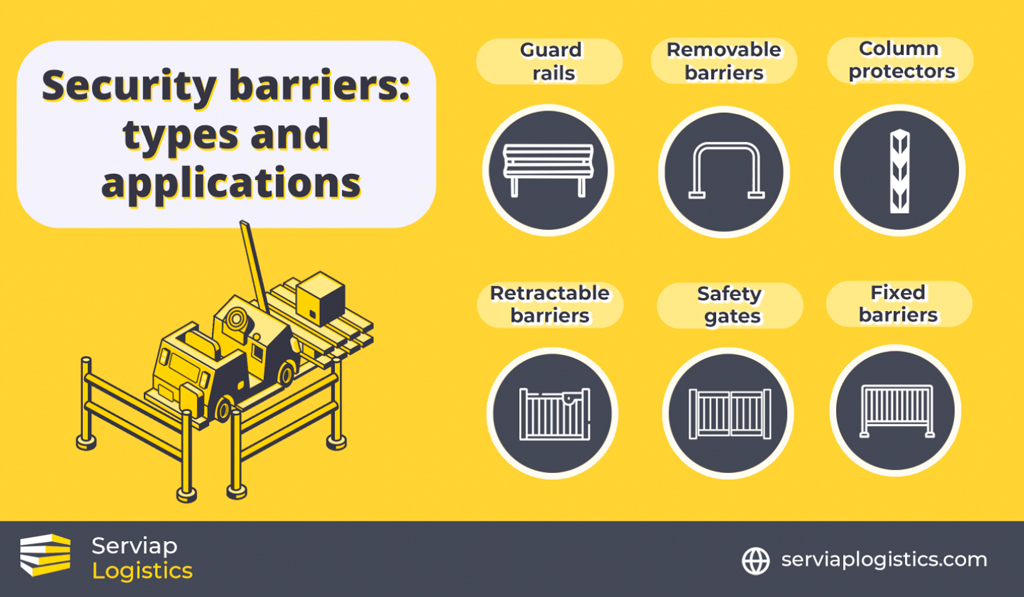 Reasons to use security barriers
Protection is a fundamental step in the project management of any warehouse that is starting up or expanding. There are several reasons to invest in an efficient security barrier system from the beginning.
Compliance with safety standards
A warehouse must conform to the operations manual for protection and use. It indicates, among other things, the norms that need to be followed in relation to loading and unloading, labeling and organization of products, as well as guidelines for safety standards.
In Brazil, institutions such as Conab oversee warehouses dealing with agricultural goods, which are tightly regulated. You may also need to meet the Superintendence of Inspection of each State, or even Procon, regarding the safety of products. This varies depending on the goods handled.
Standards for security barriers also include specific rules for the delineation of risk zones, the handling of hazardous materials, as well as heavy machinery usage.
To protect workers
Security barriers are essential to protect employees in different areas of a warehouse, whether by means of guardrails, security bollards, a combination of automated safety gates, and so on.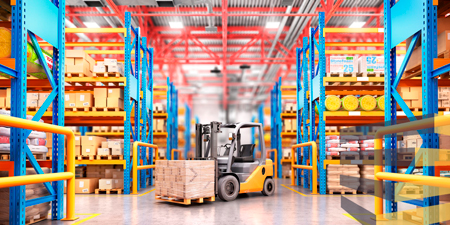 A large proportion of warehouse accidents involve human error, which makes the care of employees very important. Security barriers should warn each worker about where they can and cannot cross. This reduces the risk of accidents and makes the staff more aware of the correct spaces in the warehouse.
The barriers are usually present in many dangerous places already known to the work team, but they also serve to delimit temporary or variable risks. This is why you should follow color standards for the implementation of the security barriers, which are usually yellow and orange colors, as these are bright shades that draw the eye.
To protect products
Products are often moved from one side to the other inside a warehouse, from the moment they arrive and are organized, until the moment of final distribution. For this reason, security barriers also help to control this entire process by restricting spaces and optimizing the transit of people and goods.
They help reduce handling errors so that inventory losses due to carelessness are minimized. A good protective barrier system ensures that products can be moved without breaking, spilling, denting, or suffering from other damage.
In addition, they also become critical in preventing the theft of goods, as security barriers help organize the flow of people and their activities, avoiding unauthorized access to certain zones in the warehouse.
To protect installations
Finally, racks, pallets, ladders, forklifts, and other internal warehouse transport vehicles can also be damaged if they are not protected by a good safety barrier system installed on your warehouse floor.
Infrastructure damage is quite problematic, as the machinery used in construction is heavy and expensive. Columns, walls, and doors are not easy to replace, and if they are blocked for repair, they can affect important steps in the daily flow of operations.
In addition, security barriers play a key role in fire safety. In the event of an emergency, signage can be used to quickly evacuate affected areas and direct people to safe escape routes. Barriers can also help prevent the rapid spread of fire by providing a first line of defense until firefighters arrive on the scene.
How to choose security barriers for your warehouse in Brazil
The first step is to outline the needs of your space. Safety barriers can serve different purposes in the same warehouse. You may need to set up combinations between fixed bollards and removable barriers, accompanied by docking and transit barriers, and so on.
Also, check the material quality of the safety items you choose for your warehouse. Not only is it important that they comply with protection standards, but you also need to consider the durability of the equipment for each environment.
Investigate the application of all security barriers. Analyze the correct height, spacing, and quality of installation. Map out the warehouse operations and ensure that the equipment is well distributed according to the needs of each region.
At this point, you can also hire a logistics security expert to assess your space, in case you are having trouble organizing the correct installation of the equipment in your warehouse. A professional eye can save you a lot of time and money.
Finally, don't forget to perform periodic inspections to monitor the functionality of the security barriers, as well as to analyze the lifespan of the materials and, if necessary, invest in new equipment.
Serviap Logistics provides warehouse setup services
At Serviap Logistics, we provide comprehensive warehouse setup solutions, including the supply and installation of collision protectors, warehouse racking, floor marking, and signage.
We operate in Brazil, Mexico, and the United States, and count some of the largest companies in the world among our satisfied clients and partners, covering a variety of industries that includes automotive, e-commerce, wholesale, and many others.
Everywhere we work, we are known for being able to meet tight deadlines without sacrificing quality or safety, and in Brazil we adhere to the National Warehousing Units Registration System (Sicarm) and the Warehouse Code (CDA) in Brazil.
If you are in need of security barriers for warehouses in Brazil, contact us today.
Contact us