Warehouse floor marking is crucial to maintaining safety, best practice and high efficiency in the daily operation of a warehouse or distribution center.

In the US, warehouse floor marking has to be done according to the standards established by the Occupational Safety and Health Administration (OSHA), so working with an OSHA-certified provider is ideal.
SEE ALSO: 6 warehouse racking options to improve efficiency
There are two main types of warehouse floor marking to choose between when setting up or updating your facility: taped and painted, each of which has its own advantages.
Warehouse floor taping is done with adhesive tape made of resistant material, while painted floor marking is done with heavy duty epoxy paint.
If you are in in Brazil, Mexico, or the United States and need warehouse floor taping, or any other warehouse setup services, contact us today.
Warehouse floor marking: the basics
Warehouse floor marking most commonly uses lines or stripes to separate areas within the facility. Along with warehouse signage, it can be critical to maintaining the safety of anyone who will be entering the area.
Although color will vary depending on the function of the marking, the sizing should be consistent. OSHA recommendations are that stripes should be between two and six inches in width, with four inches being the standard for warehouse floor marking in the United States.
These easily visible and clear stripes allow everyone using the facility to be aware of how the space should be organized and used. Common functions of warehouse floor marking include:
To delimit and mark different work areas
To provide a clear direction for pedestrian traffic 
To reinforce safety signs
To help make operations more efficient
To depict more clearly restricted or prohibited areas.
Warehouse floor marking: choosing material 
If you are going to be installing warehouse floor marking, your first decision will be whether to go with floor taping or paint.
Note that you can also embed warehouse floor marking directly into the surface, but this is very uncommon as it is such a permanent measure.
While taping and paint differ in how long they will last, in both cases adjustments and redesigns are possible later. That is far more difficult with embedded warehouse floor marking.
There are several factors to consider when choosing the most appropriate option, including the type of flooring and the likelihood of the markings being changed.
Variables such as durability, strength, and cost will all factor into the decision, and warehouse floor marking that is best in one situation may not be appropriate in another.
Below, the pros and cons of each type of warehouse floor marking are considered:
Warehouse floor marking with tape 
The most common type of warehouse floor marking is an adhesive tape designed to be placed on the floor. These are usually made of highly resistant materials, such as vinyl.
Pros of tape
Speed: It can be applied and immediately used
Flexible: It can be removed and reapplied with relative ease
Cost: Cheaper to apply
Cons of tape
Durability: It is prone to being damaged, especially in high-traffic areas
Appearance: With time it will become frayed, faded and discolored
Hard to clean: It may not stand up to rigorous chemical cleaning
Warehouse floor marking with epoxy paint
The most common alternative warehouse floor marking to tape is long-lasting paint. However, there are some significant differences compared to marking with adhesive tapes. 
Pros
Excellent durability: epoxy paint has great durability and a good finish
Resistance: It is able to withstand both wear-and-tear and chemical cleaning
Customizable: As you paint you have control
Cons 
Cost: Epoxy paint is more expensive to apply
Installation time: the floor must be treated before application
Inflexible: It is hard to erase or modify after installation
Warehouse floor marking colors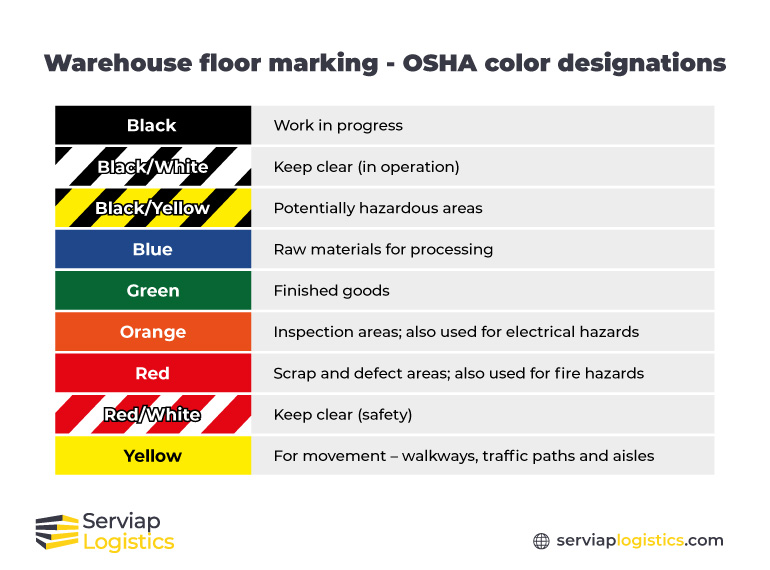 The color of a stripe or box indicates what happens or what may be present in the area. Color codes can be flexible, although hazards must be marked in red or yellow.
For extra emphasis, hazardous areas are often marked with alternating colours.
All employees should be familiar with the color code, and guides should be available and clearly signed.
The following colors are standard across most workplaces:
Black: Work in progress
Black/White: Keep clear (in operation)
Black/Yellow: Potentially hazardous areas
Blue: Raw materials for processing
Green: Finished goods
Orange: Inspection areas; also used for electrical hazards 
Red: Scrap and defect areas; also used for fire hazards
Red/White: Keep clear (safety)
Yellow: For movement – walkways, traffic paths and aisles 
Warehouse floor marking aftercare
Once the lines have been drawn, it is important to take proper care of them. The main thing is to make the employees aware of the importance of taking care of the warehouse floor marking. General recommendations, regardless of the material, include:
Avoid running the wheels of the machinery over the lines.
Place mats to keep the soles clean.
Remove objects or debris that may obstruct the surfaces.
Prevent the spillage of corrosive materials.
Practice general cleanliness.
Even warehouse floor marking that is made with highly resistant materials can become detached or damaged without good care. The better the care, the less need there is for maintenance in the short to medium term.
Serviap Logistics offers warehouse floor marking
At Serviap Logistics, we provide warehouse setup services in Brazil, Mexico, and the United States.
These include signage, racking, labels, floor marking, and collision protection. We also offer project management services and can oversee the installation, remodeling, or relocation of your warehouse from start to finish.
We count some of the world's largest companies among our satisfied partners, spanning a wide range of industries, including automotive, e-commerce and wholesale, among others.
As a family business that has grown internationally after starting in Mexico, we are committed to excellence and pride ourselves on providing personalized service to every customer.
We are also dedicated to maintaining the highest safety standards wherever we work, including being OSHA certified in the United States.
Contact us today for more information on how we can help you with your warehouse floor marking. If you were interested in this article on warehouse floor marking, check out the rest of our coverage.
If you were interested in this article about warehouse floor marking, check out the rest of our coverage.
Contact us