In a dynamic warehouse space, floor labels can be key to guaranteeing precision and organization in operations. Warehouse floor labels come in different varieties, tailored to address specific needs within the ecosystem of the facility, and complement other forms of floor marking.
SEE ALSO: Warehouse floor line painting: everything you need to know   
Among other things, warehouse floor labels play a crucial role in reducing search times, streamlining picking processes, and improving overall order accuracy. It's essential to learn how to best use floor labels with other signage and marking systems, such as 5S floor marking, in order to achieve maximum efficiency. 
Contact us if you are looking for assistance with warehouse labeling or signage in Brazil, Mexico, or the United States. 
Benefits of warehouse floor labels
Warehouse floor labels serve as a visual system to guide employees using machinery and checking inventory through the expanse of a warehouse. They are markings placed on the floor, giving key information such as location, storage areas, aisles, and safety zones. These labels facilitate efficient movement.
They enable warehouses to be divided into designated zones and sections. This division promotes systematic storage and easy retrieval of inventory items. With clear labeling, employees can quickly locate items, boosting productivity, and helping compliance with security norms for warehousing, such as the OSHA directions for the US.
Warehouse floor labels, which typically use barcodes, help in keeping track of inventory levels, reducing instances of overstocking or stockouts by only being scanned. This way, employees are less likely to pick the wrong items or misplace them, leading to fewer shipping errors and returns.
New workers can quickly grasp the layout of the warehouse, thanks to the visual cues provided by warehouse floor labels. A well-made floor label system should be very easy to read so that people can get the information with just a quick glance. People can make proper decisions regarding everything from safety to organization.
Types of warehouse floor labels
The most common type of warehouse floor label is the peel and stick, adhesive tag. It is the faster option for the application. If, for any reason, the barcode label needs to be changed, you can quickly pop it out and reapply it. It's important to be informed of the label's resistance to chemicals and abrasion, according to the traffic influx in the areas where it will be installed.
Another option is using screw-down warehouse floor labels. The pre-printed label is placed under an aluminum frame that can be attached to the floor by four anchors. The frame offers extra protection from pallets, workers, and vehicle traffic. However, installation and reapplication require more time and proper tools, such as screwdrivers.
If you still want to add another layer of protection to warehouse floor labels without sticking to aluminum frames, you can use clear label protectors. These are applied over the installed label to increase durability but don't compromise the readability of the information that is printed. These protectors are usually made of either flexible adhesive tape or rigid clear plastic.
Additionally, to optimize durability, consider special label material for specific facilities, such as a cold storage warehouse. For freezer areas, warehouse floor labels should be made of materials that can handle low temperatures. This will guarantee that labels don't start peeling off over time due to temperature conditions and humidity.
Tips for application and maintenance
There can be many high traffic areas in a warehouse, and it may be necessary to choose a number of different label styles to achieve optimum coverage. But, beyond deciding what warehouse floor labels to apply in your facility, you should also focus on the application of the tags and how to best preserve them.
Make sure that the floor is clean and dry. In freezer areas, it's also essential to sanitize the floor surface prior to application and only take the labels into the freezer once you are ready to apply them for maximum performance. The labels should be applied carefully to avoid wrinkles or folds, because this can compromise their lifespan.
After installation, it's important to know what to do in case they get dirty. Labels can be cleaned, but will not withstand strong chemicals, as they are usually sold at low price points. In regular maintenance, you should keep them clean with the least amount of chemical products possible. If they are more deeply stained, you can consider professional industrial warehouse cleaning services.
Also, it pays to organize your traffic flow so that vehicles and people don't keep driving or stepping over the labels unnecessarily. It is advisable to place the labels to the left or right of a location entrance to avoid continual impact. Even though warehouse floor labels are made to last, these habits can help prevent wear and tear in the long run.
Other forms of warehouse labeling
Before implementing warehouse floor labels, remember to optimize your whole warehouse project management. The label codes must be intuitive, whether on floors, or other spaces such as aisles and shelves. It is essential that the placement is uniform and follows a consistent positioning plan.
Shelves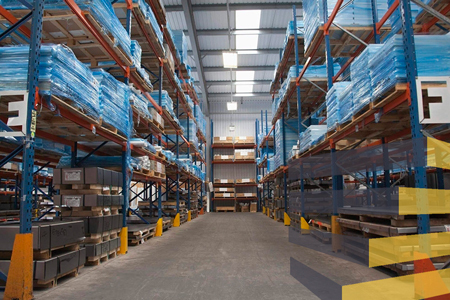 Warehouse labeling on shelves will determine the identification method for racks, which tend to be distributed by units or sections. You can label racks in the standard way, or with the serpentine pattern. In the first case, products are labeled in a parallel structure and a sequential manner. With the serpentine method, pickers collect products from one side of the aisle to the other, in a zigzag movement.
Aisles
Aisle labels help to identify corridors and give indications, such as the flow direction or emergency exits. They are positioned at the top of racks or can also be suspended form the ceiling. These labels are based on a numbering or sequence of characters. They are are usually fixed with double-sided adhesive tags or screws at the shelves.
Products
Products need to be labeled when they arrive so organization is optimized from the start. This helps obtain information about the items, the lots, and other handling aspects. Individual labels can be content labels, which usually have a barcode and a description of the goods. Additionally, they may also contain handling instructions, especially for delicate or dangerous materials.
Serviap Logistics can assist you with warehouse floor labels
Serviap Logistics provides a range of warehouse setup services in Brazil, Mexico, and the United States. We can help you with labeling systems, including floor, shelves, aisles, and product labels.
We also supply and install warehouse racking, collision protection, industrial cleaning, signage, and more. With our project management services, we can oversee installing, refitting, and relocating.
Our clients come from a wide array of industries, such as wholesale, e-commerce, and automotive. We are dedicated to upholding the highest safety standards, including the OSHA certification, as well as ABNT in Brazil, and NOM regulations in Mexico.
Contact us for more information on the efficient application of warehouse floor labels and more.
Contact us