The terms warehouse and logistics are often put together, as they are both important parts within the supply chain of a wide range of businesses, including the likes of production and distribution centers. 
On one side, warehousing typically concentrates on storing and managing products safely within a building, whilst logistics is the practical aspect of handling and delivering the goods as they pass through warehouse.  
SEE ALSO: Keep your facility safe with quality warehouse guardrails
This is why it is vital to have both your warehouse and logistics working in tandem to ensure these components collaborate effectively. 
If you're looking to create efficient warehouse operations, there's a list of a handful of considerations regarding the infrastructure of your space you should keep in mind.
Contact us to know more about warehouse and logistics management.
Warehouse and logistics centers: the need for project management
For more streamlined warehousing operations, it's important to consider all infrastructure aspects in harmony with each other. This includes proper project management and warehouse design to maintain the flow of processes efficiently on a long-term basis.
You need to administer how assets and operations interact, and how to keep them durable and safe. Secondly, you should analyze the nature of the goods being handled, considering the staff, equipment and machinery involved, as these factors tell you which warehouse and logistics solutions are best for you.
Furthermore, planning needs to regard the accordance with safety standards applicable where the facility is located. While the local standards found in different countries can vary, they will generally be quite similar, and OSHA regulations from the USA are often held up as representing best practice in general.
Infrastructure checklist: 5 key elements
Before setting up your warehouse and logistics center, you should focus on designing an optimized floor plan. This can increase storage space, prevent accidents, and function effectively. Here are 5 important parts of infrastructure you should remember.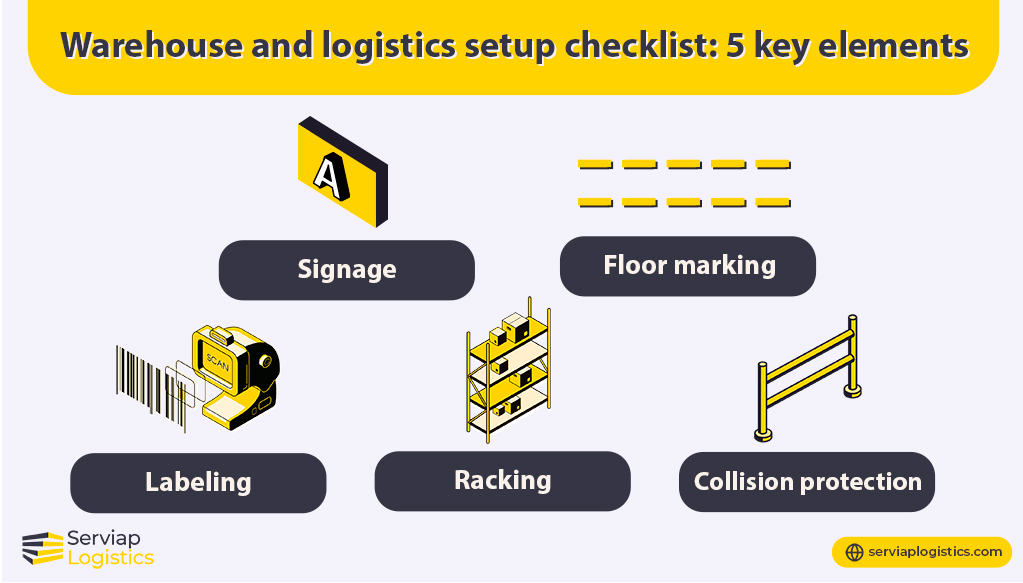 1) Signage
Warehouse signage applies a system of icons, letters, numbers, and other codes that should be easily recognizable to all workers. There are plenty of places where signs can be applied, such as aisles, racks, dock doors, and ceilings. One of their main purposes is to keep the area organized, providing a guided flow of people and goods. Barcode signs can also assist with inventory tracking.
Another common usage for warehouse signage is to increase the overall safety of operations. Load capacity signs are a fundamental addition to any warehouse and logistics facility where equipment has to sustain heavy loads, preventing accidents. Other signage types can describe health and safety risks in goods or traffic directions as well.
2) Floor marking
Floor marking is also crucial for maintaining safety, best practices, and high efficiency in the daily operations of a warehouse and logistics center. They usually indicate where you can or cannot operate, temporarily restricting or fully blocking areas, and reinforcing safety signs.
The two main types of warehouse floor marking are tape and paint. The first is made with strong and durable adhesive tape, while painted markings use epoxy paint. Adhesive tape marks are usually made of materials such as vinyl and can be applied and removed easily. Choosing epoxy paint for warehouse floor markings gives you the most durable results.
3) Labeling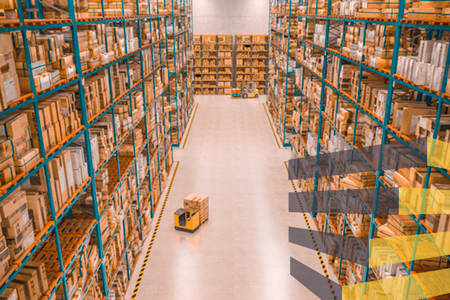 Labels are indispensable in any storage business or distribution center to quickly access good and create a more efficient inventory system. Warehouse labeling considers several factors, from the material and size of the labels to their location and the organization of the information. Also, tags must be durable, hard to peel off or erase, as the data they contain should be easy to read or scan. 
It is essential that the placement of labels follows a consistent and organized positioning plan, and is homogeneous in terms of materials, fonts, and colors. The barcode-based warehouse labeling system is one of the most common choices. It has emerged as the go-to solution for logistics operations that require integrated systems.
4) Racking
Proper warehouse racking can be the backbone of warehousing operations. It comprises of structures that maximize space and accommodate different materials, making racks systems a must-have element of your floor design. Storage racking can combine many options, such as pallet racks, picking shelves, mezzanines, and more.
Some aspects to consider when choosing the racking method for your warehouse and logistics center are the storage capacity, the height of the building, the location of doors and columns, and the flow of goods. Analyzing these options can be time-consuming, but critical for efficient operations, so it might pay off to consult warehouse racking installers.
5) Collision protection
Even though organization, training, and design already increase operational safety, security barriers are also essential to minimize potential damage to infrastructure. Investing in warehouse collision protection also expands the lifespan of warehouse and logistics processes. Depending on your needs, there are many different types of barriers to choose from. 
This is fundamental for maintaining legal compliance with safety regulations as well. According to OSHA, the Occupational Safety and Health Administration in the US, some of the leading causes of workers' accidents involve the lack of proper protection. To keep these from happening, proper collision barrier systems are needed in any effective warehouse.
Enhance your warehouse and logistics setup with professional aid
Efficient project management and execution can be a very complex step in working with warehouse and logistics businesses. It involves many procedures that may be compromised if they are not properly executed. This is why collaborating with a warehouse setup consultant can save you a lot of time and money.
They perform project installation in an assigned time to make sure that the infrastructure assembly is carried out smoothly. They can easily adapt your budget to set everything up correctly from the start. This is vital to ensure speed and safety, as well as finding any areas that can be improved.
Professional assistance can also prevent additional expenses caused by mishandling or inaccurate checkups. You may need periodic inspections to identify possible deficiencies, optimize space, and improve the lifetime of your warehouse. Inspections guarantee that your operations are safe and up to date.
In the warehouse and logistics industry, you can hire experts directly, or collaborate with a warehouse setup company that can better understand your needs and quickly find the best experts according to your region, budget, and operations.
Serviap Logistics offers warehouse and logistics assistance
At Serviap Logistics, we provide throughout assistance to warehouse and logistics companies in Brazil, Mexico and the United States.
Our services include project management, industrial cleaning, equipment assembly, and more. We can help you reaching efficiency with labels, racks, signage, floor marking and security barriers. 
Our ability to hit tight deadlines without sacrificing quality or safety has seen as become the trusted partner of some of the biggest companies in the world, covering a wide range of sectors including automotive, wholesale, and e-commerce. 
Contact us today to find out more about how we can assist you with your warehouse and logistics needs.
Contact us