The operation of a warehouse or distribution center is complex. These businesses require a lot of planning, specific design according to the type of products stored, the assembly of specialized equipment, and compliance with strict safety standards. To improve operational efficiency, hiring a warehouse setup consultant is your best bet.
A warehouse setup consultant is a specialist who helps clients improve their business by optimizing operations and space utilization. Hiring these experts brings many benefits, such as increased warehouse or distribution center productivity and better distribution of resources.
SEE ALSO: How to stack a pallet rack: 6 great tips to optimize storage
Like in any other workplace, the installation of equipment and operations within these establishments must be secure. A warehouse setup consultant will also ensure that the warehouse security measures are in place, following the regulations of each territory and based on the goods and materials to be stored and distributed.
If you are looking for a warehouse setup consultant in Brazil, Mexico, or the United States, contact us for help hiring specialists in planning, development, and project management.
4 benefits of working with a warehouse setup consultant
Consulting experts in the field is an investment that positions your company ahead of the competition. For that reason, below we share the main benefits of the advice of a warehouse setup consultant: 
1) Warehouse design
The warehouse layout design is crucial to the efficiency of operations as it considers, among other factors, the flow, spacing, equipment, safety, and sustainability within these facilities. There are a number of factors that you may not have considered, which is why it pays so handsomely to hire an experienced professional who may spot things you have missed.
An optimized design results in maximum space utilization, indicating areas for loading and unloading, receiving, storage, picking and shipping products, and even where offices, washrooms, and the cafeteria will be located. These are common issues, so it makes sense to hire someone who has thought about it before.
Getting the services of a warehouse setup consultant makes it easier for companies to choose the best layout for their business. As a result, warehouse operations are more efficient concerning order fulfillment, access to goods, shortened lead times for picking goods and materials, and accident prevention.
2) Project management services
A warehouse setup consultant provides their clients with project management services ranging from the planning of new warehouses and distribution centers to the renovation of these establishments. This can also cover the dismantling or relocation of equipment. Part of this is down to infrastructure, but it also encompasses training and setting up best working practice from the start.
Goods and materials storage businesses represent an investment of resources, so it is necessary to ensure that operations run smoothly from the beginning, from consideration of space and the products to be handled to the personnel and machinery required. This is not just about the initial measures either, but also making sure procedures are in place for ongoing training.
To optimize areas, improve workflows and comply with safety standards, a warehouse setup consultant will take care of signage of aisles, dock doors and loading capacity, labeling of racks, warehouse floor marking, and selection of the best collision protectors, among other activities required for project management.
3) Equipment assembly
Another advantage of contracting the services of a warehouse setup consultant is that these experts offer their clients solutions for assembling equipment, such as workstations, specialized machinery, placement and maintenance of different types of racks, frames, and more. While they may not be tasked with doing this directly, they can advise on who to bring in and what to ask them to do.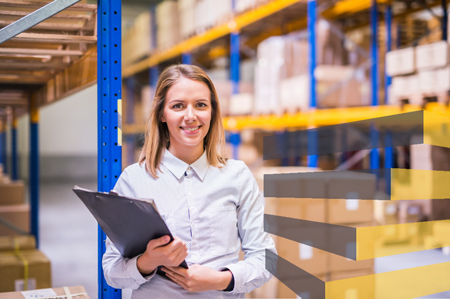 These tasks, which are highly specialized and carried out under strict safety protocols, are performed by installation technicians, who adhere to a set time and budget for assembling, moving, or disassembling equipment. This is not the sort of work that is apt for amateurs and it pays to have fellow professionals overseeing the installation to ensure that you have an optimal system.
In this case, hiring a warehouse setup consultant allows the owners of these establishments to concentrate on their business and enjoy the tranquility of knowing that the installation of their warehouse equipment has been done correctly and will not represent future problems.
4) Security
A warehouse setup consultant also understands the security of these workplaces and those who work in them, from installing protective barriers to implementing security systems such as alarms, cameras, inventory tracking, and intelligent locks. They will advise not only in individual security measures, but in the holistic system and how each part contributes to an effective setup.
To ensure that warehouses and distribution centers are risk-free hubs, a warehouse setup consultant can also provide warehouse racking inspection services and other internal and external preventive measures, depending on the business's location, setup, and nature.
Timely and proper examination of all storage equipment can prevent unnecessary problems and expenses, such as work accidents and damage or loss of goods handled in the warehouse. This is not something that can be easily done by just anyone, which is why experienced external experts are worth their weight in gold.
Serviap Logistics can assist you in Brazil, Mexico, and the United States
At Serviap Logistics, we offer services as a warehouse setup consultant in Brazil, Mexico, and the United States. These services include warehouse racking, labeling, signage, floor marking, and installation of collision protectors, such as barriers and bollards, to name a few. 
In addition, our project management services range from planning and supervising a new warehouse to remodeling or relocating this type of business from start to finish.
Thanks to the quality of our service and personalized attention, some of the largest companies in the world are among our satisfied clients and partners. They come from various sectors, such as automotive, e-commerce, and wholesaling.
Those clients choose us partley because they know that we can be relied on to meet tigtht deadlines, while also work according to the strictest safety standards, including OSHA certification in the United States.
If you need a warehouse setup consultant in Brazil, Mexico, or the United States, contact us.
Contact us