Professional industrial warehouse cleaning in Brazil is fundamental to optimizing floor operations and guaranteeing efficient processes in a facility. It includes ensuring areas are disinfected and free of dirt, junk, and leftover materials.
Maintaining orderliness in a warehouse goes beyond ordinary cleaning tasks. It involves the use of specialized techniques, equipment, and cleaning agents to effectively solve the specific challenges presented by a warehouse floor. It's a key metric when setting up a warehouse in Brazil.
Warehouse cleaning in Brazil also guarantees compliance with safety and health regulations, boosts workers' morale, and creates a more enticing space for investors and collaborators.
Contact us if you are looking for assistance in industrial warehouse cleaning setup in Brazil.
Safety and cleaning standards for a warehouse in Brazil
To maintain your warehousing business in Brazil, it is important to be aware of the country-specific regulations that apply to various aspects of your company, including safety and sanitation. Like many businesses, warehouses must comply with standards set by the National Health Surveillance Agency in Brazil, Anvisa.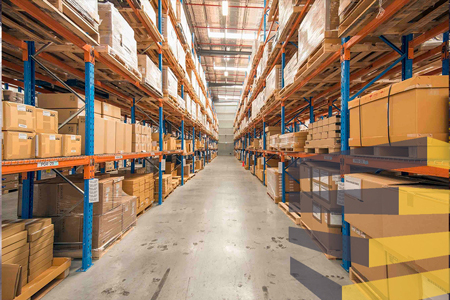 Warehouses in Brazil must go through Anvisa reviews to receive operational certifications. The sanitary examination supervises both external and internal areas, checking for conservation, cleanliness, and overall management of a facility. If a company fails to pass the inspection, it won't receive or renew the necessary permits and may be prohibited from legally functioning.
The Brazilian authorities also actively work towards ensuring protection for workers, as well as consumers of the products stored in a warehouse. So, you are required to report to the Secretariat of Labor Inspection, which falls under the Ministry of Labor and Employment and is responsible for enforcing legal regulations.
It is mandatory to conduct regularly scheduled maintenance, provide safety training for equipment, and conserve an organized and clean space. These rules play a vital role in the country's industrial and occupational health and safety. Failing to comply with these warehouse safety standards can result in financial complications.
The benefits of professional industrial cleaning
Industrial warehouse cleaning in Brazil can be done with the assistance of professionals who are ready to provide specific services. The main reasons to invest in professional industrial warehouse cleaning are the correct usage of machinery to execute such services, as well as proper training, legal compliance, and time-saving practices.
In Brazil, warehouses are obliged to thoroughly report to Anvisa on cleaning and disinfection procedures regarding methodology, products used, and documentation. Additionally, verified cleaning companies have to use equipment in compliance with Anvisa regulations too, so it's a benefit that they have expertise on the sanitary requirements and are trained on how to proceed.
Experts on industrial warehouse cleaning in Brazil can also help you with enviromental control, as sanitation is an essential step for combating problems such as mold, insects, and pests, which are inspected by the Health and Sanitary Surveillance of every state. Brazilian warehouses are regularly supervised for dengue, zika, and chikungunya virus transmitters because they can easily accumulate water and humidity.
Types of industrial warehouse cleaning in Brazil
For each warehouse, there are specific needs and indicated materials when it comes to industrial warehouse cleaning in Brazil. There is of course regular scheduled maintenance which must be practised regularly. The most common types of irregular cleaning procedure are after a change in location, accidents and installation.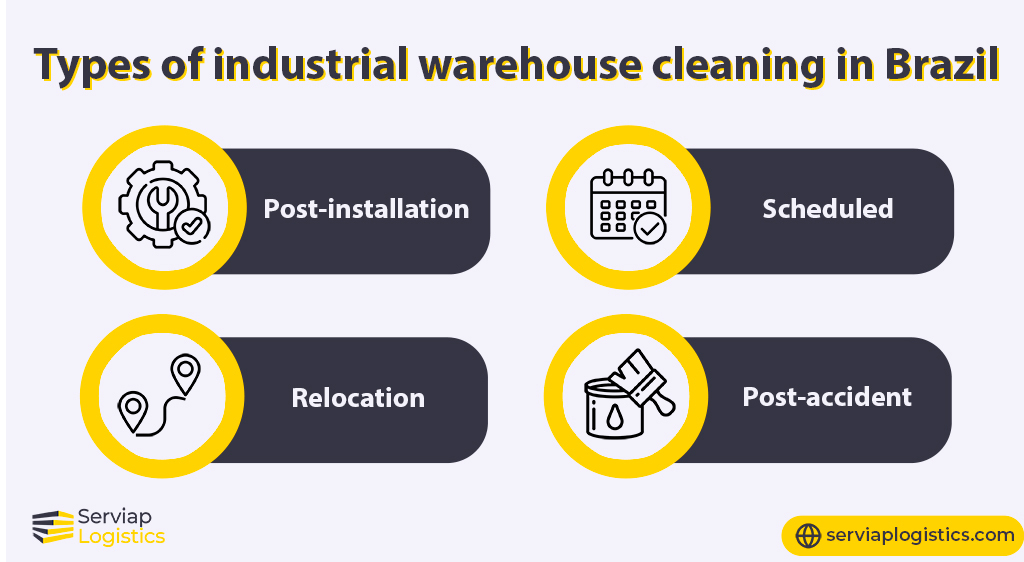 Post-installation cleaning
This is usually performed after the installation of new equipment in a warehouse, or right after construction or renovations are completed, as these processes involve a lot of disruption. It ensures that the space is fit for use and will most likely require specific machinery to collect debris and properly clean out construction or renovation materials.
Scheduled cleaning
This is the most common type of industrial warehouse cleaning in Brazil, as it guarantees functionality, hygiene, and safety compliance regularly, which is key for optimizing warehouse project management. Professionals maintain spaces clean and organized, avoiding contamination and deterioration.
Relocation cleaning
Before or after moving to another location, industrial cleaning services may be required. Workers can disinfect and organize areas where you'll be settling in, as well as leave your older warehouse space clean and ready for the next tenant. This avoids any maintenance fees for reselling a location or finishing a renting agreement.
Post-accident cleaning
Many companies working with industrial warehouse cleaning in Brazil offer specific services for post-accident cleaning. This includes the sanitary assistance needed after work accidents, such as collisions or fire, but also deals with environmental calamities such as lightning damage or flooding. It may also be necessary to use specialized equipment for cleaning hazardous substances.
Most common equipment for industrial warehouse cleaning
Industrial warehouse cleaning in Brazil requires different equipment and technological solutions, according to the specifications of your space. Knowing more about cleaning machinery can save you time and offer a professional result for all your demands.
High-pressure washers
They can be used in both light and heavy cleaning, helping to remove encrusted oil and grease stains from floors, and ensuring maximum cleaning for such common problems in a warehouse. The equipment is a sustainable option as it helps to save water, thanks to its high-pressure system. These washers can clean both internal and external areas.
Large area sweepers
Sweepers keep the floor clean by removing all types of dirt that can accumulate in transport zones, especially in regions with heavy traffic of people and vehicles. They cover large and difficult areas and can be operated by a single seated employee, which allows for complex professional cleaning with fewer amounts of human effort.
Floor washers and dryers
Dryers and washers are recommended for stocking areas where dust can easily accumulate. Some types of equipment also act as polishers, ensuring that the floor is not only clean but also shiny. It is possible to apply them to any type of floor or surface, especially in situations where sweepers alone cannot handle your cleaning needs.
Vacuum cleaners
Professional vacuum cleaners are another solution for industrial warehouse cleaning in Brazil. The most specialized options are capable of vacuuming both liquids and solids and come with brushes for various applications, allowing the removal of dust from all corners of the space, with ease of operation for your cleaning teams.
How to outsource industrial warehouse cleaning in Brazil
Hiring external experts specializing in industrial warehouse cleaning in Brazil presents a compelling option for long-term benefits. By entrusting these professionals, you can rely on their expertise to optimize the entire cleaning process and safeguard your warehouse. They ensure meticulous cleaning and maintenance while preserving the lifespan of crucial assets.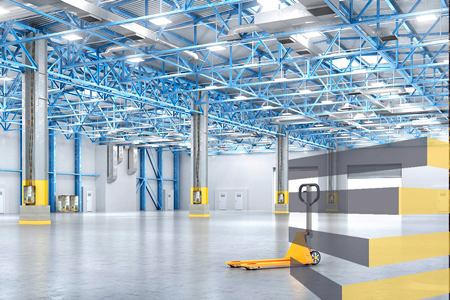 An alternative for warehouse managers is to handle cleaning tasks in-house. However, this approach requires significant investment in time and money to develop a cleaning plan, train staff, and acquire or rent equipment and cleaning supplies. Moreover, there is a considerable risk of mishandling tools and machinery, potentially leading to property and goods damage, as well as employee injuries.
If you decide to outsource your industrial cleaning services, you have two options. The first is to conduct market research on your own and identify local companies. Secondly, you can collaborate with a third-party company that provides logistics solutions for warehouses. Leveraging their network and experience, they can swiftly select the most suitable professionals while considering the cost-benefit aspect.
Serviap can help you with industrial warehouse cleaning in Brazil
At Serviap Logistics, we provide industrial warehouse cleaning in Brazil, Mexico, and the United States. We are dedicated to keeping the highest safety standards wherever we work, including ABNT, Anvisa, and Conab in Brazil.
Other services include floor marking, collision barriers, racking, labeling, and signage. We can also help you with project management services, and can oversee your warehouse setup, refit, or relocation from start to finish.
We count some of the world's biggest companies among our satisfied clients and partners, covering a wide range of sectors, including automotive, e-commerce, and wholesale, among others.
Contact us today to find out more about how we can assist you with industrial warehouse cleaning in Brazil.
Contact us