In Mexico, the government has created mandatory technical regulations known as Normas Oficiales Mexicanas (NOM), which are intended to ensure the safety of people and protect human health. For material handling and storage, NOM 006 STPS is the most relevant.
NOM 006 STPS establishes the conditions that must be met in workplaces to prevent risks to workers and damage to facilities due to manipulating and stocking materials using machinery or manually.
This rule, set by the Secretariat of Labor and Social Welfare (STPS), also shows, among other points, the obligations of the employer and those of the workers.
At Serviap Logistics, we are experts in material handling and storage in warehouses and distribution centers from Mexico, Brazil, and the USA. We follow the highest standards in each territory, like the NOM 006 STPS. 
Contact us for more information about NOM 006 STPS.
Material handling and storage with NOM 006 STPS
NOM 006 STPS is applicable across the whole Mexican territory. It aims to establish the safety and health conditions that workplaces, such as warehouses and distribution centers, must comply with to protect workers and prevent damage to the facilities. These are the most critical points that it covers:
Material handling and storage using machinery
Regarding the material handling and storage with machinery, there must be a specific safety program for the installation, operation, and maintenance of this equipment according to its user manuals, in addition to considering the conditions of the warehouse or space where it will be used.
To use the right machinery, it is crucial to know the presentation of the materials: whether they are in bulk, in pieces, packaged, packed, or in containers, as well as their weight, shape, and dimensions. The characteristics of the building are also vital, such as the location of structural elements, the proximity of electrical installations, and the simultaneous operation of other machinery.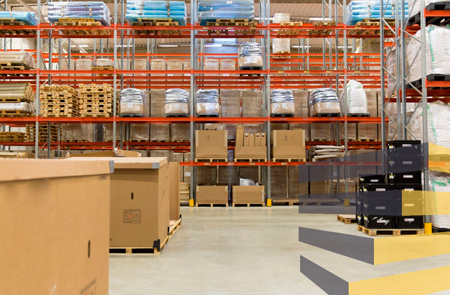 NOM 006 STPS also establishes criteria for avoiding or interrupting material handling operations using machinery, which relate to weather conditions, possible emergencies, and the knowledge that workers must have to operate this equipment. 
The NOM 006 STPS also contains specifications regarding safety measures for the operation and maintenance of hoists and winches, slings, cranes, forklifts, electromagnets, front loaders, conveyors, belt conveyors, and screw conveyors. For example, when they must be serviced, oiled, or cleaned. 
Manual material handling and storage
According to NOM 006 STPS, for the material handling and storage manually in warehouses and distribution centers in Mexico, the characteristics of the workers that may limit their manual load capacities, such as gender, age, weight, complexion, background, and injuries, must be taken into account. 
It is also necessary to note the properties of the products to be handled, like their weight, shape, and dimensions, and whether they have sharp edges or are hazardous materials. Likewise if the goods must be placed in containers, what type, and if loading vehicles are necessary.
Knowing the intensity and frequency of material handling and storage and conditions that may increase the strain on workers are required, such as exposure to solar radiation, extreme humidity, contaminated environments, and other weather conditions. 
Some preventive measures contained in NOM 006 STPS regarding the manual handling of materials are the supervision of safe conditions, keeping transit areas free of obstacles, using protective barriers, verifying that workers do not carry more than 50 kg, providing personal protective equipment, and offering ongoing training.
Employer obligations
NOM 006 STPS also specifies the obligations of employers. These begin with having a specific program for checking and maintaining materials storage equipment and having clear procedures regarding the installation, operation, and maintenance of machinery. 
Employers must also provide protective equipment, have a first aid manual for emergency care, inform their workers of the risks to which they are exposed, and provide relevant and ongoing training.
Employee obligations
For their part, employees must follow the preventive measures established in their workplaces and immediately report any problems or failures in machinery and any tools used to carry out their activities. 
Also, NOM 006 STPS specifies that workers must use and maintain the personal protective equipment provided in good condition, operate machinery safely, keep their workspaces clean and tidy, undergo regular medical examinations, notify their employers of any health condition, and participate in the training offered.
Other aspects
NOM 006 STPS considers creating a program for the health surveillance of workers, especially for those who manually handle and store materials and are exposed to muscular or postural overexertion. 
Employees responsible for handling and storing materials, such as installers, maintenance personnel, machine operators, and assistants, should receive training and instruction. Training should be theoretical, practical, and evaluated.
NOM 006 STPS: 2017 modifications
NOM 006 STPS was initially published in 2000 and has had some modifications since then. According to the most recent changes made in 2017, pregnant women and during the first 10 weeks after childbirth must not perform material handling activities involving loads exceeding 10 kg.
Also, NOM 006 STPS now states that the maximum load workers can handle must be determined by the actual conditions under which the activities are performed. Thus, the maximum manual load handled by workers must not exceed 15 kg in the case of women and 7 kg in the case of minors.
Serviap Logistics works to the highest safety standards
At Serviap Logistics, we are experts in installing, remodeling, and relocating warehouses in Mexico, Brazil, and the United States, territories where we work with the highest material handling and storage standards, such as NOM 006 STPS. 
We also supply and install signage, labels, floor marking, and collision protectors, as well as offering project management services to oversee a warehouse setup or refit from start to finish. 
Our ability to hitr tight deadlines without sacrificing quality or safety has seen us become the trusted partner of some of the biggest companies in the world, coivering industries including wholesale, automotive, and e-commerce.
Contact us to find out how we can help you. 
Contact us