If you want to start a storage business, open a distribution center, or relocate and renovate your facilities, warehouse racking installation is necessary. And to make this process fast, safe, and without disrupting your operations, here are five things to consider for a successful placement. 
Racking, as well as signage, labeling, floor marking, and the installation of protective barriers, are a fundamental part of the configuration of any warehouse and belong to a more complex system in which the proper layout and distribution of space are indispensable. 
Thus, warehouse racking installation is a series of orderly and planned steps that help place shelves for storing goods and materials. The type of shelving selected will depend on the warehouse layout design, the building structure, the variety of goods and products stored, and the access to them. 
In addition, warehouse racking installation, without putting personnel at risk, must be performed by a warehouse setup consultant. These experts in local regulations will adapt to their client's necessities and budget without compromising the safety of workers.
Contact us if you need an expert to help with warehouse racking installation. We offer services in Brazil, Mexico, and the United States.
Warehouse racking installation: 5 aspects to consider
1) Safety always first
Minimizing any risk within a storage business or distribution center is vital to protect workers and not interrupt operations. For this reason, it is necessary to apply local safety standards during warehouse racking installation and any other equipment.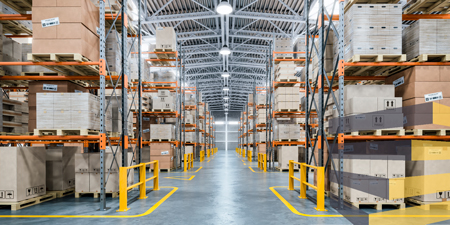 In the United States, regulations for operating a warehouse are set by the Occupational Safety and Health Administration (OSHA); in Brazil, by the Brazilian Standards Organization (ABNT); and in Mexico, by the Secretariat of Labor and Social Welfare (STPS).
Some norms are the correct use of personal protective equipment (PPE) and constant personnel training. However, when it comes to warehouse racking installation, special attention must be paid to the load capacities and maximum height of the racks. This will prolong the service life of the storage equipment and prevent it from collapsing and injuring someone. 
Also, during warehouse racking installation, the quality of the equipment and the materials from which it was constructed should be considered. And once they have been installed, regular inspections should be made to check that they are in good condition, and if necessary, they should be maintained or replaced.
2) Materials or goods stored
For a successful and hassle-free warehouse racking installation, it is necessary to know the type of materials and goods that will be kept in the establishment. This will tell you how many racks are needed, what kind, and how they will be arranged within the property to maximize the use of space. 
Also, the products stored and the stage of the production process will determine the type of warehouse and whether special storage conditions such as a cold room are required. You may, for example, consider the necessity of a roofed area or if these goods can be kept outdoors. 
Generally, products arriving at a warehouse or distribution center are classified by size, state and weight. Perishability and fragility are also considered where appropriate. At the same time, pallets on shelves can be irregular, uniform, single-use, and reusable. 
Warehouse racking installation, especially when dealing with raw materials, should consider what system will be used to handle the products. For example, FIFO (first in, first out) may be more appropriate for an operation handling perishable goods than a LIFO (last in, first out) system, as the items cannot spend a long time in the facility.
3) Types of shelves
One of the key aspects of warehouse racking installation is the type of shelf to be installed. In order to make the best choice, several factors must be evaluated. These include space distribution, whether the warehouse is indoors or outdoors, or some special conditions depending on the goods.
Usually, all racks use a pallet as a base that supports the storage of boxes and heavy materials. The pallets are then arranged in horizontal rows on several levels to maximize space utilization; the number of groups, in turn, depends on the weight supported by the base material.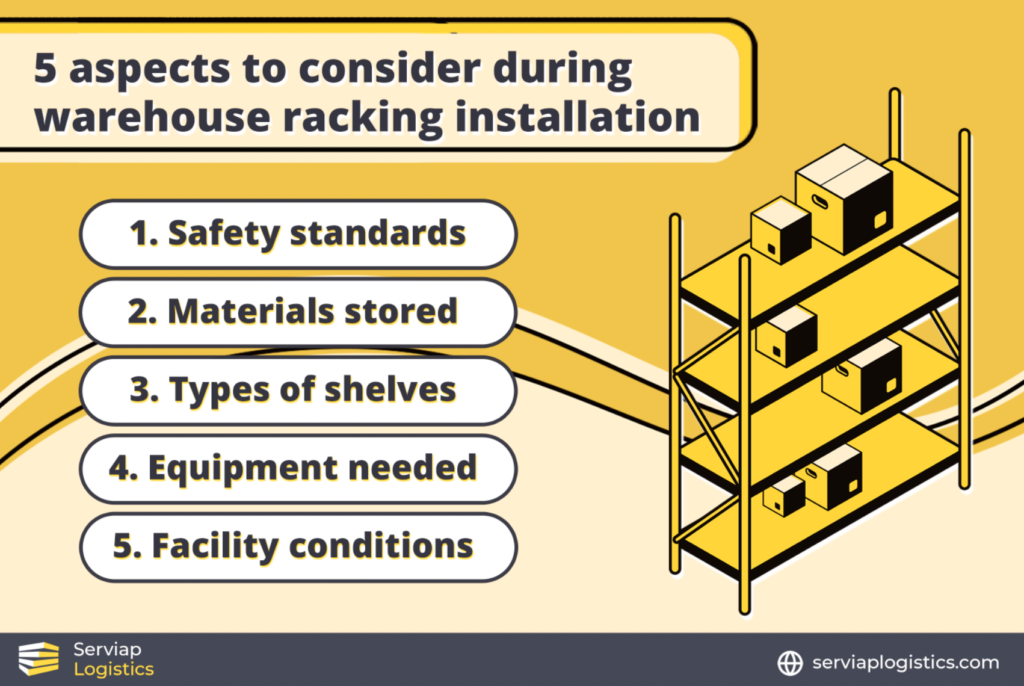 Conventional pallet racks are one of the most popular and stand out for their ability to support heavy goods in little aisles. However, very narrow aisle racking is also available to make the most of limited spaces.
There is also drive-in and drive-through racking, which allows vehicles to enter and pass through; pallet flow racking uses a FIFO system; push-back racking is based on a LIFO system, while double-deep racking offers a middle ground between layouts designed for easy access and those for high-density storage.
4) Equipment needed
Warehouse racking installation requires special equipment, from forklifts to help lift the shelves to scissor lifts and general construction tools, such as drills, hammers, screwdrivers, wrenches, and more. 
Depending on the regulations in each territory, there will be specific considerations for the equipment to be used. In the United States, for example, the American National Standards Institute (ANSI) standard MH16.1-2012 dictates that all shelving columns must be anchored to the floor or at least secured with bolts.  
Also, columns must include a base plate and quality anchor bolts. These accessories will help keep the racks upright and firm to withstand any shock from a forklift or even an earthquake. Anchoring the racks will minimize accidents related to collapsing shelves and falling stored products. 
The warehouse floor can vary, as it can be linoleum and vinyl composition tile, but it is usually concrete. In this case, special tools will have to be used to facilitate the placement of storage equipment, such as concrete wedges and impact anchors.
5) Facility conditions
Sometimes, the properties used to set up a storage business or distribution center are not in the best condition. From humidity problems to uneven floors and cracks in the building, it is necessary to evaluate the requirements of the space before warehouse racking installation. 
The expert you hire for the placement of this storage equipment should make sure the slab will be able to support the loads you plan to place on it (pounds per square inch), as well as take into account the vehicles that will be traveling through the site.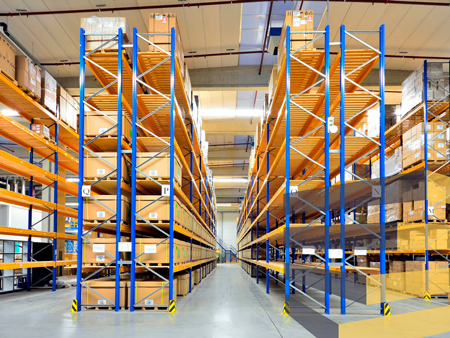 It is also essential to consider the height at which the shelves will be concerning the ceiling of the building, as they should not collide with fire safety systems, such as sprinklers, in addition to being at a considerable distance from lamps and electrical installation. 
Taller buildings may also allow for a higher storage equipment arrangement during warehouse racking installation. However, forklifts may not be able to reach the racks on the top levels, requiring the purchase of new forklifts, an expense that may not have been contemplated.
Serviap Logistics can help you with your warehouse racking installation
At Serviap Logistics, we help our clients with warehouse racking installation following the safety standards in the storage businesses and distribution centers that apply in their territories, whether in the United States, Brazil, or Mexico.
Additionally, we offer labeling, signage, floor marking, collision protection installation, and equipment assembly. Our services also include project management, from planning and supervising a new warehouse to remodeling or relocation.
Thanks to the personalized attention we provide and the quality of our services, we are able to count some of the largest companies in the world among our satisified clients and partners, from sectors such as automotive, e-commerce, and wholesale.
Contact us if you are about to open or relocate a warehouse and need an expert to help you with warehouse racking installation.
Contact us