Labels are indispensable in any storage business or distribution center to identify and quickly access products. For this reason, it is necessary to implement warehouse labeling systems, from the design to the production and placement of tags. 
Warehouse labeling is essential for these establishments to operate efficiently and be productive. Knowing the precise location of stored materials saves time, streamlines processes, and allows a greater flow of goods. 
Warehouse labeling systems take several factors into account, from the material and size of the labels to their location and the organization of the information. Also, tags must not be easy to peel off, stain, or erase, and the data they contain should be easy to read or scan. 
SEE ALSO: Warehouse setup checklist: 7 important things to get right
As in many storage projects, hiring the services of a warehouse setup consultant will help in choosing the best labeling system. These experts will develop an accurate plan that can adapt to the needs within the facility and work in harmony with the types of warehouse safety signage. 
Warehouse labeling systems can be organized by type of labels (removable, permanent, suspended, retroreflective, etc.), according to specific situations (use of cold storage and outdoor tags), and by their placement, which is explained below.
Serviap Logistics provides warehouse labeling services in Brazil, the United States, and Mexico. If you need more information, please get in touch with us.
Aspects to consider in a warehouse labeling system
Before implementing one of the warehouse labeling systems, remember that the tags must have a combination of numbers and letters in sequential order. This code must also be intuitive for users, such as starting with the letter A and the number 0, for example, and so on.
Labels must be easy to find and read, whether on aisles, shelves, products, or floors. If necessary, you can also implement arrows to guide the staff's attention to the location of the tags.
It is also essential that the placement of labels is uniform, follows a consistent and organized positioning plan, and is homogeneous in terms of materials, fonts and colors. Finally, you will have to consider the label holding system – whether that involves plastic holders, direct application via stickers or so on.
Warehouse labeling systems: placement
Aisles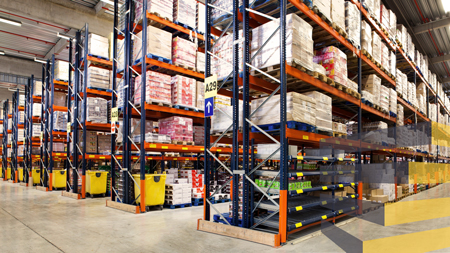 Aisle labels are a fundamental part of the organization of a warehouse or distribution center since they help to identify corridors and give indications, such as the flow direction or emergency exits. 
This labeling is based on a numbering or sequence of characters. The panels are usually fixed with double-sided adhesive pads or screws at the shelves, at the aisles' beginning, and at the top so they are not damaged by machinery such as forklifts. They can also be suspended from the ceiling. 
The most commonly used materials are PVC, but they can also be made of any other support that resists high temperatures or exposure to corrosive materials. In terms of size, they can be 12 x 12 inches when they have only one letter or number or 12 x 16-18 inches when the signs have more than one character.
Warehouse labeling systems on shelves
For labeling warehouse shelves, you must first define the identification method of this storage equipment, which is usually distributed by units or sections, depending on the type of goods and materials stored. 
Two ways of labeling racks within a warehouse are standard and serpentine. With the first, products are labeled in a parallel structure and a sequential manner. With the serpentine method, pickers can zigzag to collect products from one side of the aisle to the other.
In addition, shelves will be labeled from bottom to top, such as 01, 02, 03, and so on, all the way to the last row of that unit or section. Labels are typically up to four inches wide, and they are printed on various colors and materials, although the most common have a magnetic metal backing.
SEE ALSO: Warehouse floor markings: 4 very important considerations
Warehouse labeling systems for individual products
When new products arrive at a warehouse, they must be labeled and coded in the receiving area. This process helps to obtain information about the type of item, the number of units that make up its lot, and other characteristics that facilitate its handling.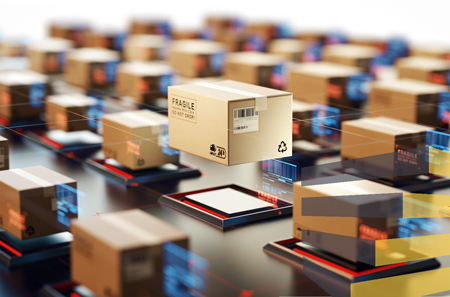 Individual labels can be of different types. For example, there are content labels, which usually have a barcode and a description of the goods; handling instructions, especially for delicate or dangerous materials, and origin and destination labels. 
Label printers are used in warehouses and distribution centers to tag products quickly. These labels are self-adhesive, have sizes according to the product type, and are usually white and printed with black ink, but they can also be in other colors.
Floor-mounted warehouse labeling systems
Floor labeling and marking provide important information within the warehouse, such as pedestrian or machinery passage, receiving and distribution areas, circulation within the warehouse, and dangerous zones. 
The tags to be used on floors can be printed on high-quality self-adhesive material. Still, they can also have protections, such as an aluminum frame and a transparent cover, to extend their lifespan. They are sometimes metallic and screwed into the floor.
Floor labels contain alphanumeric barcodes and other data that help identify a lot or unit of goods. Sizes and colors vary depending on the organization within the warehouse, but they should be visible enough to be noticed.
The importance of efficient warehouse labeling systems
The correct placement of labels, as one of the labeling systems in warehouses, minimizes storage errors because, with clear coding, it is easier to locate products and take them to other areas within the establishment. This also helps with dispatch speed.
Another advantage is the traceability of goods within the warehouse or distribution center because when aisles, shelves, and the products themselves are labeled, it is easier to know where they are in the distribution process, if they have just arrived, or if they have been stored for some time and are waiting to be distributed. 
The implementation of warehouse labeling systems improves the flow of goods, faster and smoother processes, and increases the productivity rate of the facility.
Serviap Logistics offers warehouse labeling system services
At Serviap Logistics, we offer warehouse labeling systems to suit the needs of your storage business and distribution centers, whether in Brazil, Mexico, or the United States. 
We can also help you with signage, floor marking, supply and installation of anti-collision barriers, and equipment assembly. In addition, we have project management services and oversee the installation, refurbishment, or relocation of your warehouse from start to finish.
Some of the world's largest companies have trusted the quality of our services and attention to detail and come from sectors as varied as automotive, e-commerce, and wholesale, among others. Wherever we work, we meet the highest safety standards, including OSHA certification in the United States.
If you want to be another of our satisfied customers, contact us. And if you like this article on warehouse labeling systems, read the rest of our coverage.
Contact us