Work stations are an essential feature of almost any storage business or distribution center and can be used for various things. While they can be very specific, there are general rules that apply and six common categories that most fall into.
A workstation is a designated space or delimited area that contains the tools necessary for a worker or group of users to accomplish their assignments, from computers and scanners to machines for packaging goods.
The installation of a warehouse work station must be supervised by experts and according to local regulations. In the United States, these standards are determined by the Occupational Safety and Health Administration (OSHA); in Brazil, by the Brazilian National Standards Organization (ABNT); while in Mexico, it is the Secretariat of Labor and Social Welfare (STPS). 
Generally, a warehouse layout design includes a loading and unloading area, goods receiving, storage, order preparation, and dispatch area. A warehouse work station must be installed in each zone for employees to carry out their duties.
Serviap Logistics offers warehouse setup services in Brazil, Mexico, and the United States. Contact us to find out more.
6 types of warehouse work station
A warehouse work station can vary depending on the nature of the storage business and the type of goods held, but these are the six types you may find:
1) For loading and unloading
The loading and unloading areas are a warehouse work station and can be integrated into or independent of the facility. These spaces will require the assembly of docks, metal closures, platforms, and ramps, among other structural aspects that facilitate the flow of goods. 
Merchandise usually arrives and departs in trucks in large volumes. For this reason, as part of their duties, workers may need forklifts, cranes, and barcode readers to know what materials are coming in and out of the facility.
2) For goods receiving
Receiving goods is one of the most critical tasks, as it is the starting point for maintaining a well-organized and efficient storage business. It involves planning the arrival of merchandise, unloading and handling of products, quality control, and proper labeling for the timely location of materials. 
A warehouse work station for goods receiving will require equipment assemblies, such as huge steel tables for product placement, plastic and cardboard boxes, and even packaging machines, for employees to perform quality control, sorting, and bar-coding tasks.
3) For storage
Following the flow of goods, once the products pass through the receiving area, quality is checked, and materials are sorted and labeled. Then, they are taken to the storage areas, which can be floor spaces delimited with tape or epoxy, or shelves made of steel and other high-strength materials. 
A storage area is also a warehouse workstation, where personnel will require palletizing systems and metal shelving to place the goods and products into the facility. Depending on the height of the shelves, forklifts and other vehicles may also be required to facilitate product placement.
4) For picking
Before leaving the warehouse, goods are picked and prepared. Whether the operators travel to the storage area to select the products, activate specialized machinery to bring the goods to them or have robotic picking systems, such as mechanical arms. 
Once products have been picked, as part of their picking warehouse work station, a worker may require pallets to accommodate goods, cardboard and plastic boxes, packaging material, barcode scanners and printers, and other items.
5) For dispatch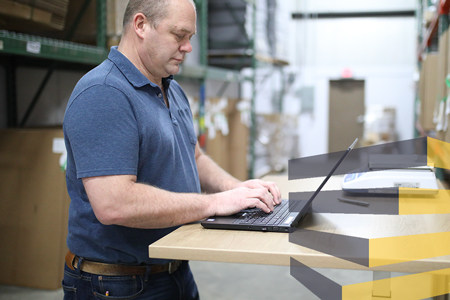 When goods are ready to leave a warehouse or distribution center, they are taken to shipping areas, which can be taped or epoxy-primed floor spaces near loading docks or tables and platforms for placing materials. 
To check that the goods correspond to the order and are properly packed and labeled, workers will need tables to place the boxes containing the goods ready for distribution. This type of warehouse work stations may require the installation of mechanized systems and label readers and printers.
6) Mobile work stations
Any space within a storage business or distribution center, such as an aisle or free area, can be used to perform specific tasks when a mobile warehouse work station is available.  
A mobile work station can be a battery-powered cart where computers, scanners, and even packaging machines are placed to be moved from one side to another. This type of equipment facilitates operations within the warehouse and saves time and human resources.
7) Additional work stations
A warehouse is not only composed of areas where goods pass through but also of offices for administrative personnel, maintenance rooms for cleaning staff or for repairing storage equipment, toilets, changing rooms, and even a cafeteria. 
In any of these spaces, it will also be necessary to implement different types of warehouse work station. For example, an office requires desks, cabinets, chairs, and all tools that allow staff to operate efficiently.
Benefits of a well-organized warehouse work station
An ergonomic and well-organized warehouse work station, with the devices needed to perform specific tasks, helps maintain a smooth and efficient workflow. Here are the main benefits: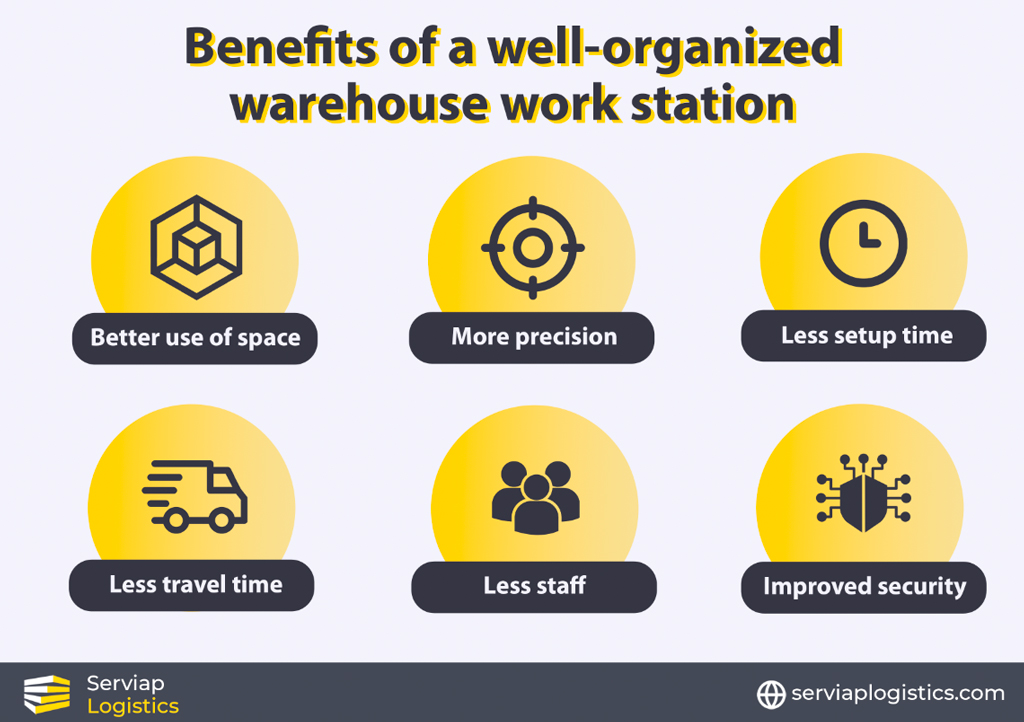 Maximum use of space. A well-designed warehouse work station will make full use of space, from placing correctly sized equipment to implementing mobile stations. 
Precision in specialized tasks. The warehouse layout will determine the facility's zones and, consequently, the specialized tasks to be performed in each. This will make it easier to know what type of warehouse work station to set up and the devices required. 
Less setup times. A complete warehouse work station helps improve the flow of goods, allowing for greater productivity and less setup time. 
Eliminates travel time and requires less staff. Having a mobile warehouse workstation helps eliminate travel time between different areas and requires less personnel, as only one worker is needed to operate a cart. 
Product and employee security. Employee safety and quality of goods should be prioritized in any storage business and distribution center, and a well-designed, organized, clean warehouse work station helps preserve risk-free environments.
Serviap Logistics offers warehouse setup services
At Serviap Logistics, we provide equipment assembly services as part of a broader range of warehouse setup services we offer in Brazil, Mexico, and the United States. 
Those include supplying and installing signage, floor marking, racking, and collision protection. We also design and supply labels. 
Contact us for more information on the different types of warehouse workstations.
If you enjoyed this article about types of warehouse work station, read the rest of our coverage.
Contact us