Equipment installation is a critical part of setting up a warehouse or distribution center, as proper placement and assembly significantly affect the productivity and efficiency of a storage business. 
Warehouse equipment installation involves setting up, moving, and even eventually dismantling operational items, such as workstations, machinery, shelving, racks, collision protectors, and more.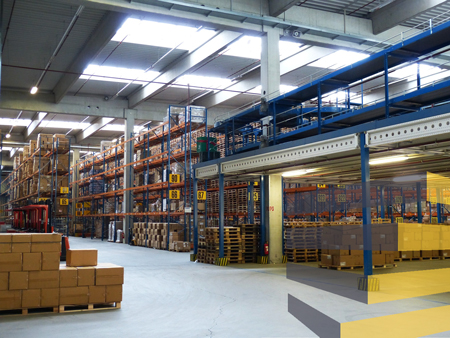 Hiring a warehouse setup consultant for equipment installation will save you both time and money, as these experts are adaptable to your budget and needs. Having everything set up correctly from the start will allow you to hit peak efficiency faster.
Professional installers also help you comply with local regulations. In the United States, these standards are set by the Occupational Safety and Health Administration (OSHA); in Brazil, they are by the Brazilian National Standards Organization (ABNT), while in Mexico, by the Secretariat of Labor and Social Welfare (STPS). 
Contact us if you are looking for professionals to help you with the equipment installation in your storage business in Brazil, Mexico, or the United States.
Equipment installation: what it covers
Work stations
A warehouse is divided into a number of different areas, all specialized for separate stages of the logistical process. Each zone has workspaces where equipment installation is required for specific activities. 
The loading and unloading area can be located outside the warehouse. When they are integrated into the facilities, they will require the installation of docks, which can be separated with an intermediate platform or attached to the building. It may also require the provision of metal enclosures, platforms, and ramps. 
In the receiving area, it will be necessary to set up equipment for employees to perform quality control, sorting, coding tasks and place barcodes for quick location. The goods will then be moved to the storage area, either on delimiting areas by floor marking, stacked and in blocks, or on racks. 
The picking and dispatch areas can range from simple tables on which to place the goods or boxes containing the items to be packed. There may also be mechanized systems that will need to be installed. Auxiliary areas such as general and control offices, toilets, and equipment maintenance rooms will also need equipment installation.
Machinery
Warehouses and distribution centers also require equipment installation, often with machinery which can be manual or automatic and used for loading and unloading goods, depositing and retrieving unit loads, transporting merchandise, and picking.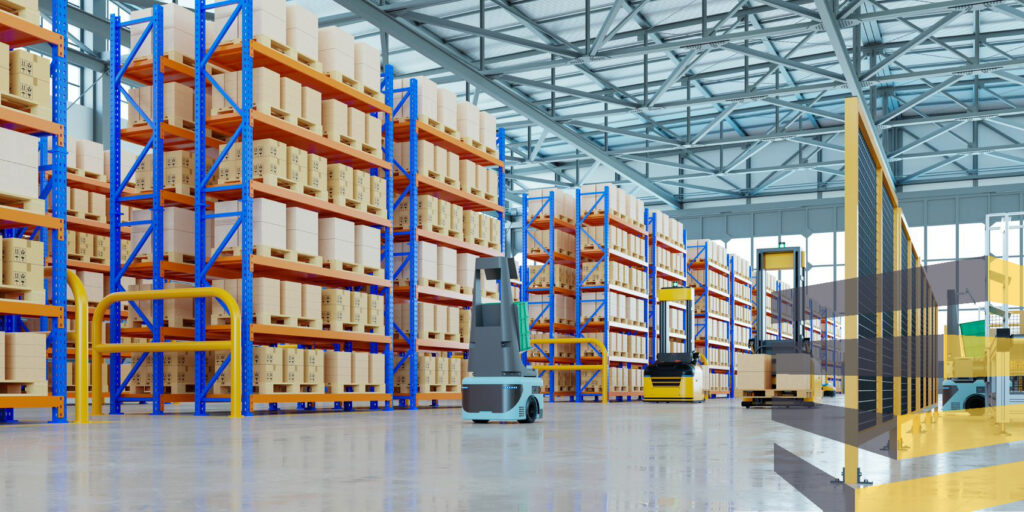 Pallet trucks and stackers are often used in loading docks: the first are floor-level transport equipment, while stackers help lift the goods to deposit them on trucks. There are also counterbalanced forklifts based on the lever principle and ATLS (automatic truck loading systems), which automate the insertion and removal of objects. 
Various types of forklifts, stacker cranes, and pallet shuttles are used for depositing and retrieving goods from shelves. Equipment installation may be necessary for merchandise transportation such as electrified monorails, pallet lifts, overhead cranes, and conveyors. 
The assembly of order picking equipment is also required, such as manual picking carts, case and pallet conveyors, and industrial robotic arms, which help handle heavy loads. 
Racking
Racking assembly is also a service offered by experts in equipment installation. The correct placement of these structures allows for optimal storage of goods and facilitates the efficient operation of a warehouse or distribution center. 
Like any other storage equipment, racking setup must follow the highest safety standards so that workers will be protected and operations within the warehousing business will not be interrupted. 
SEE ALSO: Warehouse racking installers – hire pros for best results
It is also necessary to know the type of materials and goods stored in the facility, the number of racks needed, their style, and how they will be arranged to take advantage of the space. 
The shelving assembly also requires special equipment, from forklifts to lift the structures to scissor lifts and general construction tools, such as drills, hammers, screwdrivers, and wrenches.
Collision protectors
Collision protection is a key part part of warehouse equipment installation as it helps to minimize accidents, safeguard lives and comply with local regulations. 
Collision guards can be guardrails, bollards, column and wall guards, retractable barriers, and safety gates. Guardrails, for example, are usually metal separators used to demarcate areas. 
Bollards are short posts that serve as a safety barrier in a warehouse, preventing or restricting access to certain areas. Column and wall guards, as their name suggests, protect these parts of the building.
A retractable barrier is made of solid material and can be hooked together to separate or divide an area. At the same time, safety gates are warehouse barriers that allow access to a site whenever necessary.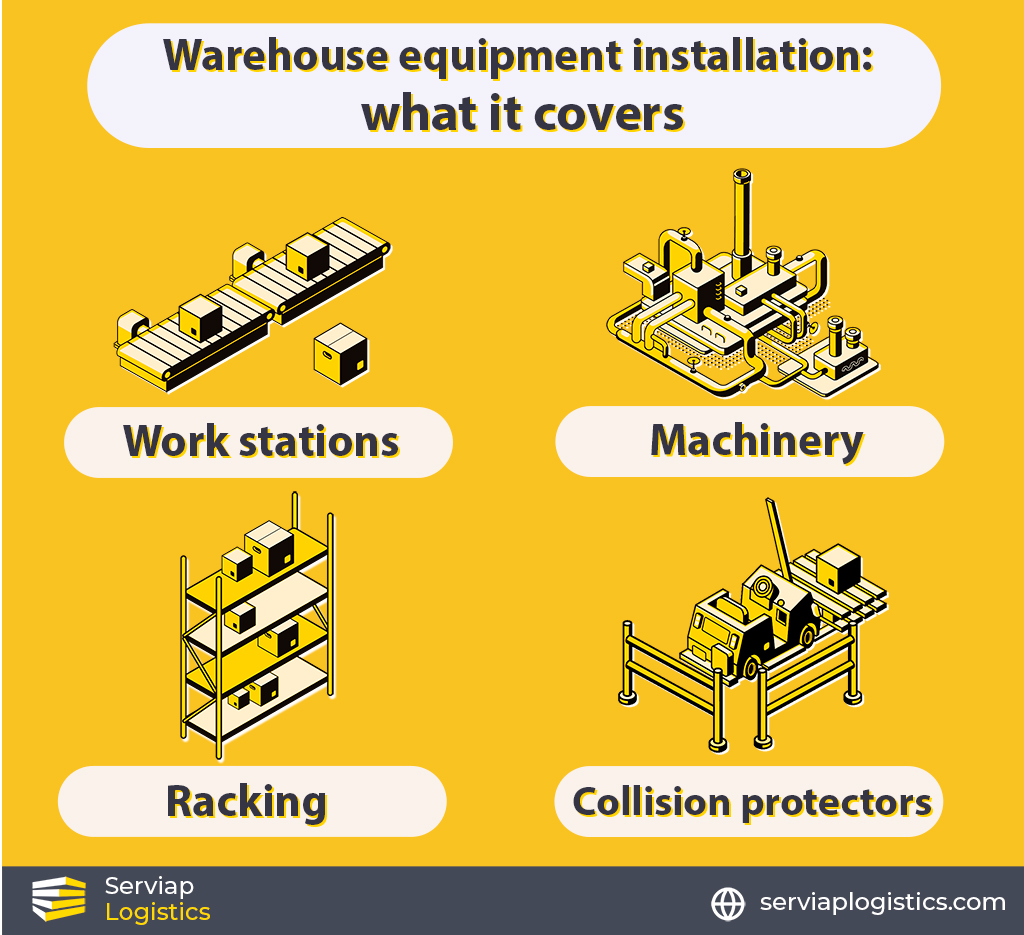 Equipment installation: how a professional can help you
Working with professional installers in the assembly of warehouse and distribution center equipment has certain benefits, such as:
Speed. A professional consultant, having extensive knowledge in warehouse equipment installation will do a fast and accurate job following the established warehouse layout. 
Reliability. These experts perform equipment installation in an assigned time and ensure that the initial assembly or dismantling is carried out smoothly. Their experience and track record back them up to deliver quality services. 
Safety. Safety is vital in any workplace, especially when using heavy machinery or structures that can collapse and injure workers and damage goods. Working with a professional installer helps minimize safety risks, as they meet the highest standards in the region during equipment assembly. 
Insight. Professional installers are also known for their ability to understand projects clearly and quickly, from setting up workspaces to machinery, racking, and installing collision guards.
Serviap Logistics offers equipment assembly services
At Serviap Logistics, we offer equipment assembly services in Mexico, Brazil, and the United States based on the highest industry standards. 
We provide and install signage, racking, and floor marking, as well as supplying labels. And if you need to plan and supervise the installation, renovation, or relocation of a warehouse, we can help you with your project management.
Some of the largest companies in the world, in sectors such as automotive, e-commerce, and wholesale, choose us because of our ability to hit tight deadlines, without sacrificing quality or safety. 
Contact us if you need a professional to help with the equipment assembly in your warehouse or distribution center.  
Contact us