For anyone running a warehouse or distribution center in Mexico, periodic professional cleaning is critical to maintaining safety and efficiency in the facility.
Professional cleaning of industrial warehouses in Mexico goes beyond the day-to-day neccesity of keeping the floors and infrastructure clean and tidy, and involves a deep cleanse of every aspect of the space, often with the use of chemicals and other specialist materials.
SEE ALSO: How to set up a Mexican warehouse: 7 key steps to success
Such cleaning allows the facility to comply with the health and safety standards established by the Secretariat of Labor and Social Welfare (STPS), which is why periodically contracting a provider of industrial warehouse cleaning services in Mexico is advisable.
Contact us if you need industrial cleaning services in Mexico.
Cleaning of industrial warehouses in Mexico: general regulations
In Mexico, the purpose of the Mexican Official Standards (NOM) is to guarantee the safety of people and protect human health. NOM 006 STPS, for example, establishes the conditions that must be met in workplaces to prevent worker risks and damage to facilities from handling and storing materials. 
Regarding the cleaning of industrial warehouses in Mexico, NOM 006 STPS states that "material storage areas must be tidy and clean." This is one of the employer's responsibilities, who must revise the facility to check that safety measures and conditions are being adopted.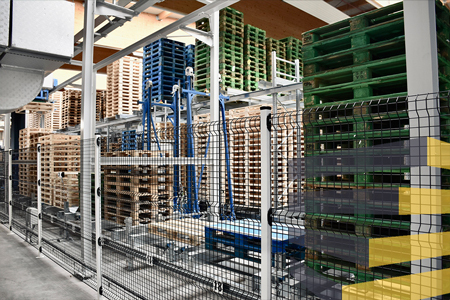 Depending on the type of warehouses in Mexico, these stores must undergo specific inspections evaluating the building and the electrical, sanitary, fire prevention, and protection installations. Machinery and storage structures are also examined to ensure that they are in optimal conditions.
Inspections to check the cleanliness of industrial buildings in Mexico are carried out inside and outside the building. Non-compliance could result in fines and even the cessation of operations, as dirty facilities affect not only the personnel but also the products stored. 
In order to keep an industrial warehouse or distribution center clean, it is necessary to provide constant information to personnel on waste management, the use of machinery, and the organization of the work area, obligations that the employer must comply with following local regulations.
Cleaning of industrial warehouses in Mexico: advantages
The cleaning of industrial warehouses in Mexico goes beyond the periodic control of hygiene in these establishments. It also has to do with the efficient operation of a company, its productivity, and its image.
A logistics business that guarantees sanitary conditions reduces the risk of accidents for its workers, preserves the stored products in optimal conditions, and prolongs the useful life of the machinery for industrial processes. 
The cleaning of industrial warehouses in Mexico improves productivity since a clean and orderly work environment minimizes unexpected delays during the placement, picking, and preparation of orders and keeps workers motivated, active, and safe.
Investing in the cleaning of industrial warehouses in Mexico is also essential to preserve the image of the facilities and stay competitive because a dirty and neglected storage or distribution company reflects badly on the wider organization.
In the case of a warehouse where the last steps of the production process of chemical, pharmaceutical, biological, additive, or food products for animal use or consumption are preserved or carried out, the cleaning of industrial buildings in Mexico is part of the Good Manufacturing Practices (GMP), which help to reduce the risks of physical, chemical or biological contamination.
In general, the cleaning of industrial warehouses in Mexico helps to save on unnecessary expenses caused by non-compliance with local regulations, loss of stored products, broken machinery, and employee sick leave due to illness or accidents.
Cleaning of industrial warehouses in Mexico: types
The cleaning of industrial warehouses in Mexico depends on the type of warehouse, its size, and the products stored. Generally, it is performed on floors, metal structures, roofs, and machinery, and after finishing construction work, changing the location of a logistics business or remodeling.
Floor cleaning: consists of sweeping dust, removing dirt, and collecting all material residues that fall into the facility during the supply chain. This process is followed by deep cleaning and disinfection with pressure washers and special chemicals. This way, the floors are kept shiny and free of imperfections, and the facilities and workstations preserve a good image.
Structure and roof cleaning: the cleaning of industrial buildings in Mexico also includes maintaining the hygiene of roofs and structures, which means cleaning the accumulation of dust and other materials that remain impregnated in the upper part of the building. This type of cleaning also involves keeping the HVAC (heating, ventilation, and air conditioning) system in optimal conditions, as well as the lighting, pipes that pass through the roofs, and other elements.
Machinery cleaning: cleaning industrial equipment is more complex, requiring specialists to disassemble the machinery to remove accumulated dirt, such as oil, dust, and other contaminants. While cleaning equipment can harm productivity, not doing so could be worse: machinery breaks down due to a lack of maintenance, which reduces its useful life and represents an additional expense for logistics business owners.
Construction site cleaning: opening a warehouse, relocating or remodeling it produces trash and debris that must be cleaned up so as not to disrupt operations, cause accidents, and give a neat image of the facility. Therefore, it is necessary to clean industrial warehouses in Mexico after any change in the facilities. Even before any modification is made, hiring experts to guarantee a quality job is necessary.
Cleaning techniques for industrial warehouses in Mexico
Industrial warehouse cleaning techniques are varied and depend on the unique needs of each warehouse or distribution center. These are some of the most popular within the Mexican logistics business: 
Cleaning with industrial machinery
The cleaning of industrial warehouses in Mexico with industrial machinery guarantees better results since it is mainly done with sweepers and polishers. This equipment, in addition to cleaning dust and debris from the floor, leaves a shiny finish free of imperfections and is much faster than manual labour.
Vacuuming of solids
Industrial vacuum cleaners help reach even the most hidden places in a warehouse or distribution center where solid waste, liquids, and other dirt can accumulate. They also keep the constant accumulation of dust under control.
Foam cleaning
This method usually combines water and soap to generate foam, which is very useful on floors, machinery, and high areas of the warehouse, such as ceilings and metal structures. These foams often contain powerful surfactants to quickly get rid of stains.
Pressure cleaning
Pressure cleaning uses water at certain temperatures and some other chemical product that, as its name indicates, is projected under pressure on the surface to be cleaned. The combination of heat, force and humidity allows stubborn marks to be eliminated.
Steam cleaning 
Industrial livestock buildings or where food and products for human and animal consumption are handled require specialized cleaning, usually steam cleaning, since it not only removes dirt from the surface but also is hot enough to kill any microorganisms and sterilize the surface.
Cleaning of industrial warehouses in Mexico: why hire a specialist
Warehouses and distribution centers in Mexico must be cleaned periodically by in-house personnel or third parties. The important thing is to ensure hygiene within the facilities to avoid accidents or employee sick leave. 
However, when you hire experts dedicated to the cleaning of industrial warehouses in Mexico, you comply with federal regulations, obtain quality service, and guarantee the correct use of specialized techniques and machinery. Relying on professionals helps save time and resources while prolonging the life of metal structures, machinery, and storage equipment.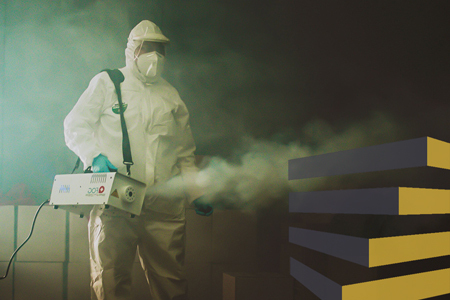 Also, since cleaning involves chemicals and machinery that can be hazardous, working with experts will ensure that they use the correct protective equipment when handling any cleaning product or item.
The cleaning of industrial buildings in Mexico by an expert company also helps to minimize the environmental impact of this process since these professionals will know which cleaning products are less polluting and more effective, in addition to making a correct separation of garbage and any residue found.
Serviap Logistics offers cleaning of industrial warehouses in Mexico
Serviap Logistics provides cleaning of industrial warehouses in Mexico, Brazil, and the United States, territories where we respect the strictest safety and health standards. 
As part of our offer as specialists in warehouses and distribution centers, we also provide floor marking, anti-collision barriers, equipment assembly, labels, and signage systems. 
If you need to manage a project in your logistics business, we can help you oversee the installation, remodeling, or relocation of a warehouse from start to finish. 
Some of the largest companies in the world have put their faith in us because of the quality of service we offer, our ability to meet tight deadlines, and our personalized attention to each client.
Contact us for more information on how we can help you with the cleaning of industrial warehouses in Mexico.
Contact us