To ensure compliance with local regulations in Brazil, warehouse managers have to pay careful attention to national parameters, including NR-11 (111.000-4), which is one of the most important documents for safety in transportation, material handling, and warehousing.
These norms form part of the legal instrument known as the Consolidation of Labor Laws, or CLT, which establishes rules governing individual and collective labor relations in Brazil, with NR-11 being particularly relevant when it comes to running a warehouse in Brazil.
The NR-11 was first implemented in 1978 and has been frequently updated ever since. With its insertion into the Ministry of Labor and Employment, the requirements focus on reducing accidents at work, ensuring that companies comply with the technical requirements of ANAMT as well.
Contact us for detailed information on NR-11 and other regulations for Brazilian warehouses.
The NR-11 regulations in detail
The NR-11 defines fundamental protective measures to preserve the health and physical integrity of workers. It establishes minimum requirements for the prevention of occupational accidents in the trade, processing, movement, and handling industry. In case of technical omissions within this document, international standards may be applicable.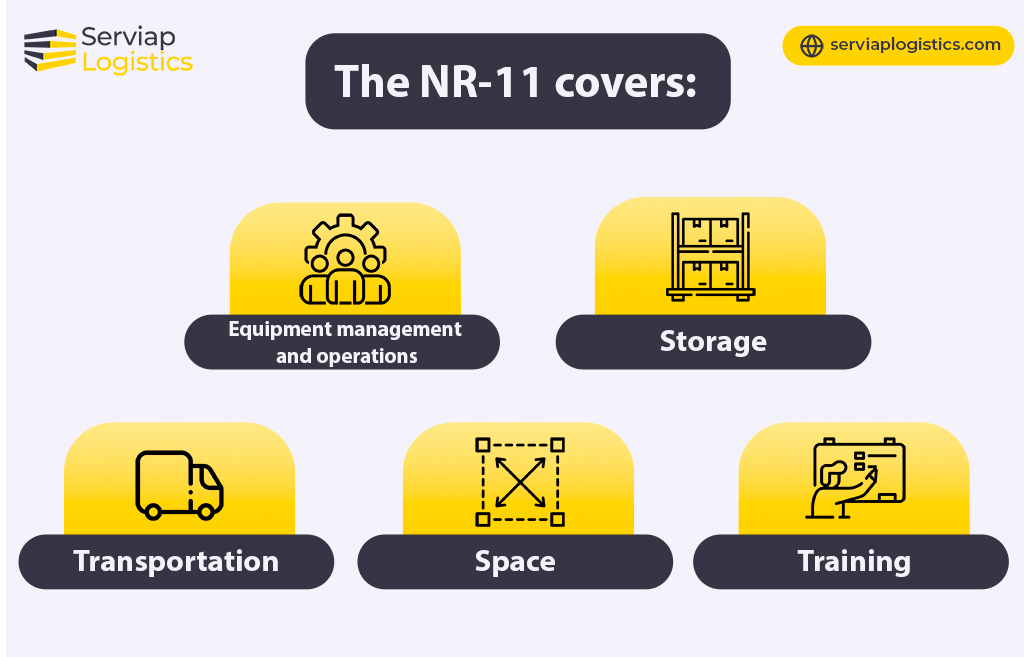 Equipment management and operations
All equipment and machinery used in material handling must be designed correctly to provide the necessary guarantees of strength and safety limits. Transport equipment must always display signage on the maximum working load capacity, as well as audible horns to help safety in traffic.
Elevators and shafts should be enclosed throughout their entire height with security barriers for warehouses in Brazil. Inspection will pay special attention to wires, ropes, chains, pulleys, and hooks, which must be checked at all times and defective parts replaced as necessary. Manual trolleys shall have hand guards. Any equipment intended for moving personnel must follow special extra safety conditions.
Storage
The weight of the stored goods must not exceed the calculated load capacity of each floor. The products should be correctly arranged to avoid obstruction of doors, fire equipment, and emergency exits. Storage and stacking must be kept away from walls and building structures by at least half a metre.
The arrangement of cargo should not hinder traffic, lighting, and access to emergency routes. Storage shall comply with the special safety requirements for each type of material. The handling of specific products such as slabs of marble, granite, and other rocks must comply with special provisions as revised in Annex I to item 11.4.1 of NR-11.
Transportation
Manual transportation of products in sacks must be limited to a maximium distance of 60 meters.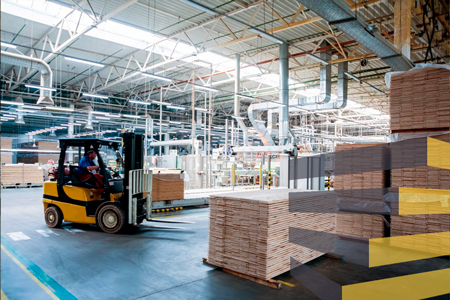 Beyond this limit, goods should be carried out by propelling wagons, carts, or any type of mechanized traction system or equipment. Manual transportation is also forbidden on spans higher than 1.00 meter or more in length.
In any case of manual operation for loading and unloading items, the responsible worker must have the assistance of an additional helper. Automated processes for transportation are prefered over manual ones whenever possible. In a mechanized stacking operation, the use of conveyor belts or forklift trucks are recommended.
Space conditions
The warehouse floor must be made of non-slip material, preferably using asphalt mastic, and kept in perfect condition, to avoid tripping and other accidents. The company must provide appropriate structural covering of external loading and unloading areas.
In any poorly ventilated areas, the emission of toxic gases must be rigorously controlled to avoid intoxication and health hazards. Then, in fully closed places, the use of conveyor machines powered by internal combustion engines is prohibited, unless they are equipped with suitable neutralizing devices.
Training
NR-11 specifies that training is obligatory in Brazilian warehouses , including the proper usage of Personal Protective Equipment (PPE). Additionally, operators of transport equipment must receive specific training, provided by the employer company. The assigned workers must be certified and can only drive machinery if their license documents are up to date.
The drivers' cards are valid for one year, and each employee must undergo a full health examination at the employer's expense to validate their license anually. Operators may only drive if they carry an identification card with their name and photograph in a visible place during working hours.
Inspections in Brazilian warehouses
Brazilian warehouses are inspected through visual and dimensional analysis using measuring instruments. The inspections focus on the physical situation of the equipment and its components, verifying possible failures and other damages that may compromise safety and check that industrial warehouse cleaning in Brazil is being done correctly. Employees may also be tested on specific training and safety methods.
Inspections, maintenance, and repairs must be carried out by legally qualified professionals, according to NR-12, which compliments NR-11 in consideration of warehouse machinery reviews. The inspectors must be authorized by the employer, and all operations involving machines must be temporally stopped so the inspection can be made thoroughly.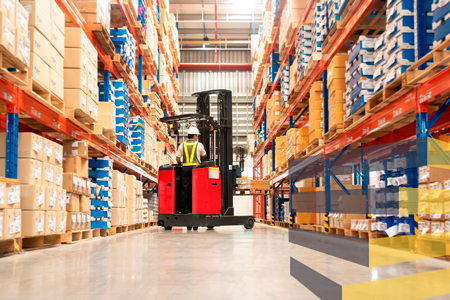 All inspections have to be done with full impartiality. The official institutions are responsible for not allowing commercial, financial, or other pressures to compromise revision. Thus, it is required that examinations are carried out in the absence of conflict of interest, bias, and prejudice. Managers can counterpoint inspectors' conclusions if they are able to prove that they lacked neutrality and fairness.
According to NR-11 and NR-12, machinery and equipment must be subjected to preventive and corrective maintenance, in the form and commonness determined by the manufacturer, in accordance with the official national or international technical standards. The required frequency varies from monthly to annually.
What is the importance of meeting NR-11 requirements?
The main reason for appropriate NR-11 compliance is securing safe work conditions, and protecting people. Wearing PPE can reduce the severity of accidents, but they need to be combined with rigorous regulations to leave no room for unforeseen events and prevent accidents from happening in the first place.
According to the World Health Organization (WHO), as cited by ANAMT, 96% of work accidents can be prevented by following official norms, such as the NR-11 for warehouses. The requirements of NR-11, when not complied with, can bring many risks to the company, including additional costs and fees.
If a warehouse fails to meet the regulatory standards in an inspection, it will be reported by the Ministry of Labor and Employment. After this notification, there will be a deadline to fix the situation. After that, if a company has failed to correct the issues in the work environment, a fine may be liable.
The most severe penalty a warehouse can receive, before having to shut down completely, is the risk of interdiction. Your operations may be temporally closed if inspectors conclude that you aren't able to provide personnel with the proper work conditions. Ultimately, managers may be held liable, especially if accidents are reported.
Serviap Logistics assists with NR-11 compliance in Brazil
At Serviap Logistics, we offer warehouse setup services in Mexico, Brazil, and the United States. Wherever we work, we do so in accordance with local regulations, such as NR-11 in Brazil, and maintain the strictest safety standards. 
Our range of services includes signage, floor marking, racking, and collision protection, as well as project management to oversee a warehouse setup, refit, or relocation from start to finish. 
Contact us to learn more about how we assist you.
Contact us